In the age of food delivery, meal kits, and nightly takeout culture, it is perfectly acceptable to keep your kitchen spotless this holiday and order your Thanksgiving to-go. Think of it as hiring a catering service for an event, and there's no shame in that.
Vegan and vegan-friendly restaurants are offering more plant-based Thanksgiving packages than ever before, so we might as well take advantage of this delicious convenience. Pick your favorite restaurant from the list below and place your order today—really, don't wait, because most order deadlines are coming up soon.
Vegan Thanksgiving food
For new vegans, one of the most common barriers to going plant-based is Thanksgiving food. From the omnivore's point of view, this holiday is vegan-prohibitive—from the turkey to its fat-rendered gravy. Does giving up animal foods mean no more Thanksgiving, too? 
Not in the least. A very minor tweak in perspective is all that's needed to enjoy Thanksgiving in all its glory while also eschewing meat, dairy, and eggs. The restaurants below offer the traditional foods we've all grown up with, simply made with plant-based ingredients.
Rodnae Productions/Pexels
Puff pastry Wellingtons are stuffed with seitan instead of turkey, sumptuous gravy is crafted with wild mushrooms in lieu of animal fat and beef stock, and classic Thanksgiving pies are effortlessly whipped up with the help of indetectable tofu and plenty of non-dairy butter.
No matter what your Thanksgiving food traditions are, there is a delicious and satisfying vegan interpretation. If you're not yet a confident vegan cook or don't need the stress of preparing a holiday feast, lean on these exceptional vegan restaurants throughout the US to deliver a crowd-pleasing, plant-based Thanksgiving meal.
Where to order vegan Thanksgiving dinner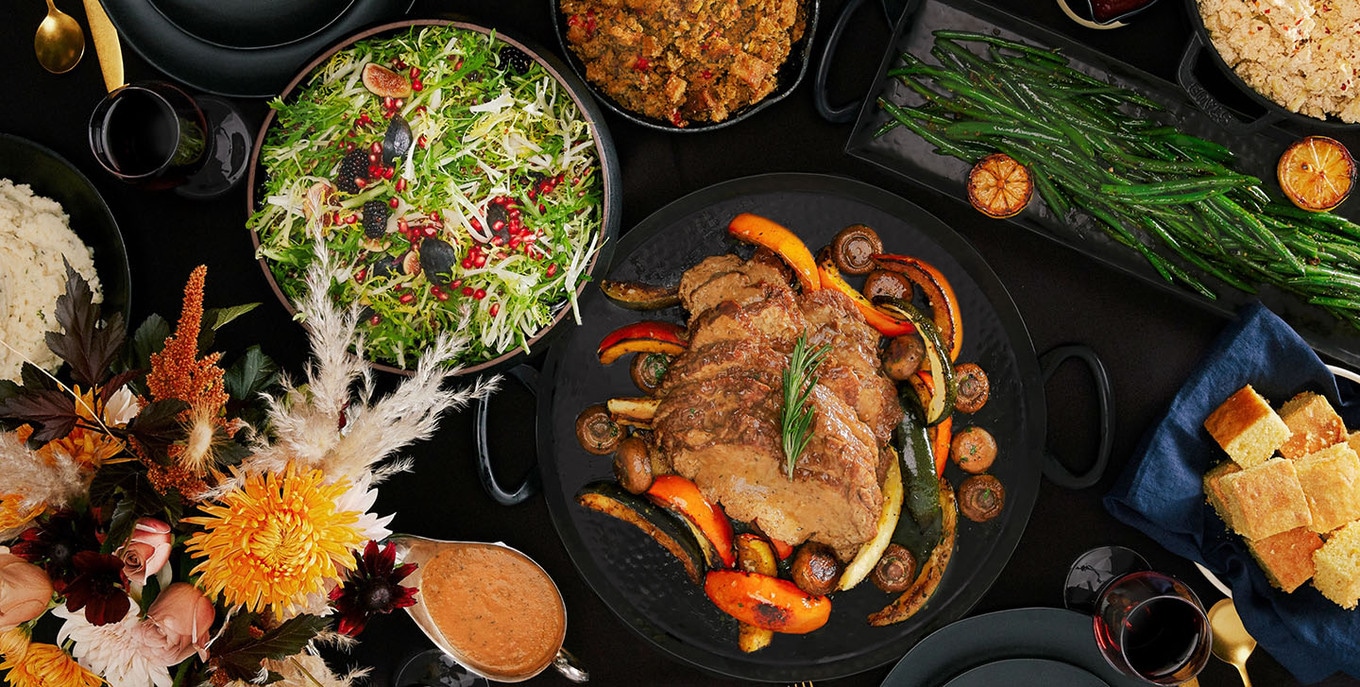 Plum Bistro
1 Plum Bistro
Seattle, WA
This respected Capitol Hill vegan eatery is bringing back its Thanksgiving dine-in dinner for 2023. But if you're looking for a take-home option, Plum Bistro has not one, but two astounding takeaway feasts that serve up to six. The restaurant's Smoked Maple Glazed Dinner Roast includes dishes like a maple-glazed Hollyday roast, skillet gravy, mashed potatoes, cornbread stuffing, macaroni and cheese, and much more. The second, a Thanksgiving Meatloaf Dinner, features a Sage Cranberry Glaze Meatloaf, several tasty traditional sides, and a pumpkin praline cheesecake pie. Place your order by Monday, November 21 to secure your feast. 
Find out more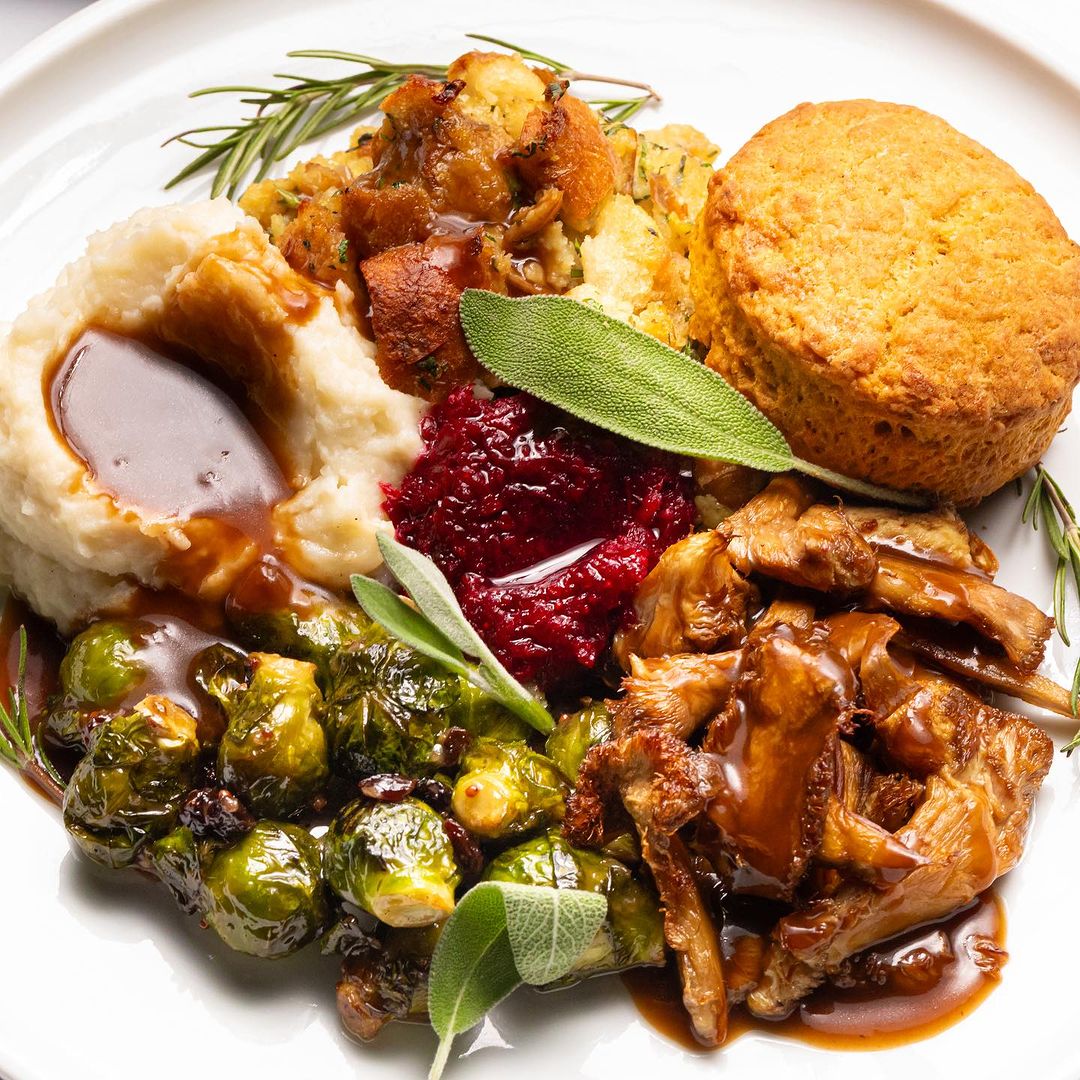 Crossroads Kitchen
2 Crossroads Kitchen
Southern California and Las Vegas, NV
The Thanksgiving menu at popular celebrity hotspot Crossroads Kitchen has our mouths watering. The four-course menu, which is $75 per person, features dishes like Celery Root Soup, Pulled Lion's Mane Mushrooms, Breaded Scallopini, and Cranberry Relish. At the time of writing, Thanksgiving dinner at the restaurant's Los Angeles location has officially sold out, but dining reservations for Crossroads' Calabasas and Las Vegas locations are still available. 
Find out more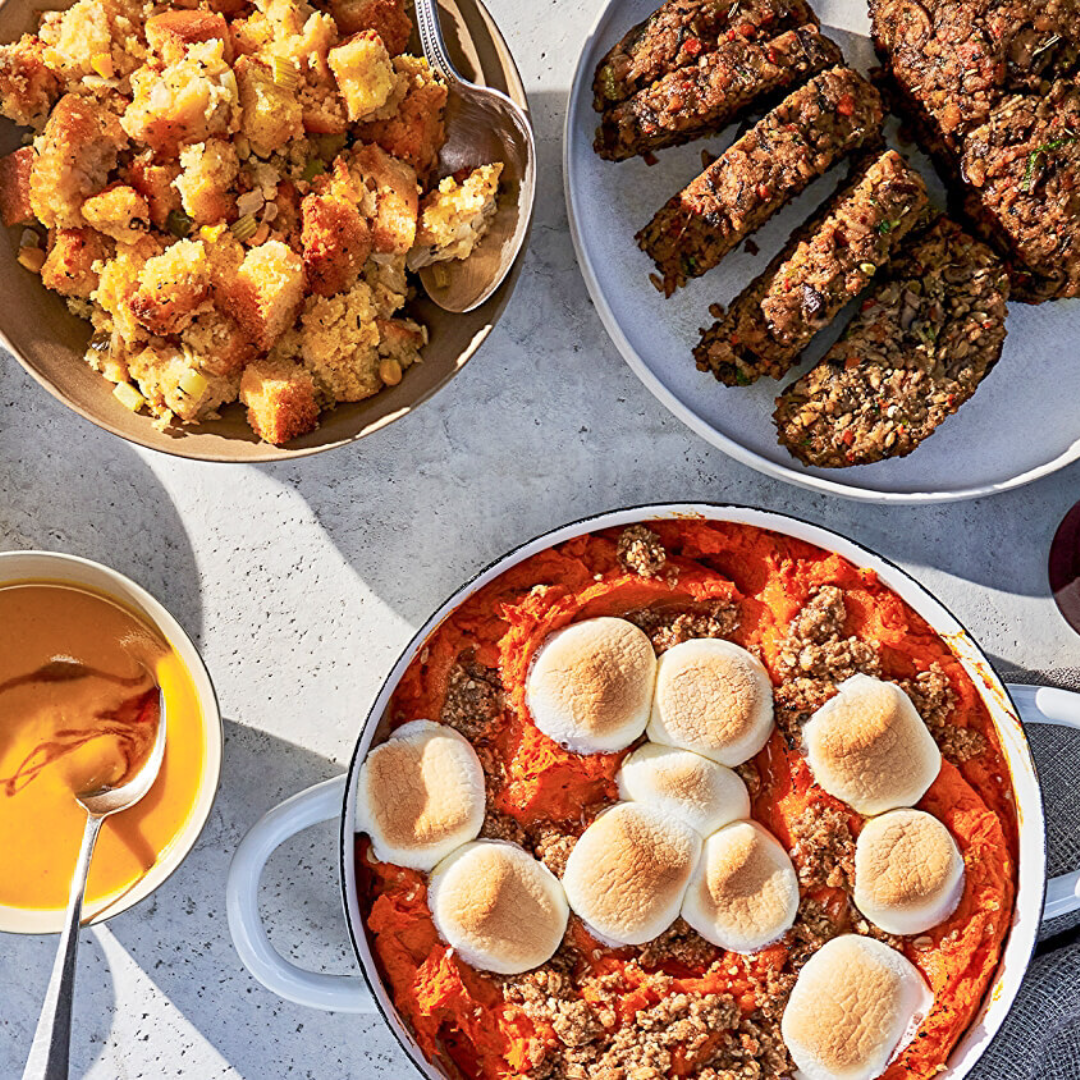 Whole Foods
3 Whole Foods Market
Nationwide
This vegan-friendly grocer is making Thanksgiving easier than ever. The comprehensive Vegan Meal for two includes a mushroom and root vegetable en croûte with mushroom gravy, sea salt, and cracked black pepper green beans, roasted butternut squash with cranberries and sage, roasted fingerlings with garlic and parsley, and pumpkin curry soup. Other festive items include vegan spinach artichoke puffs, fruit and veggie platters, and pumpkin pie. Place your order at least 48 hours prior to your desired pick-up date to avoid disappointment. 
Find out more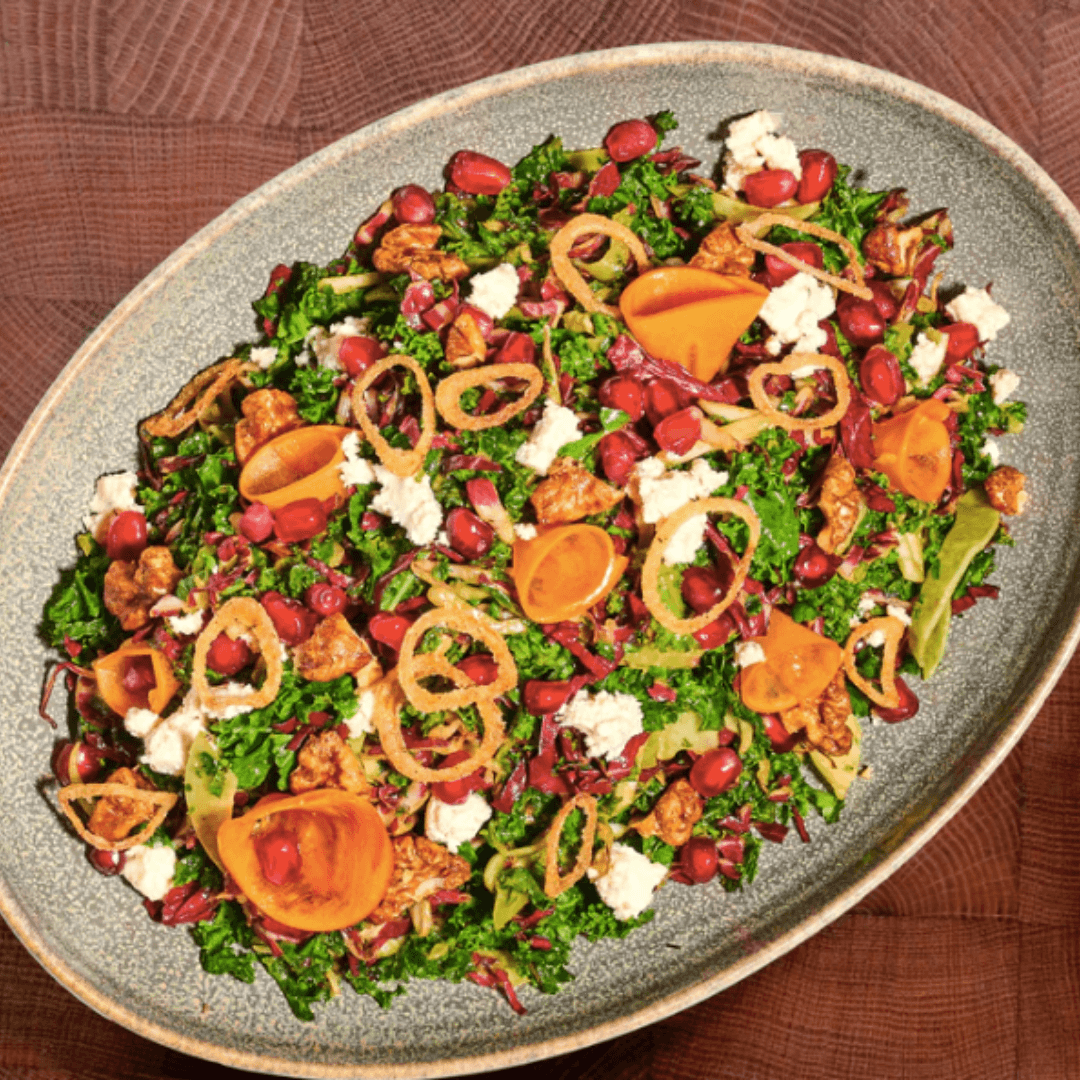 Cafe Gratitude
4 Cafe Gratitude
Multiple locations
If you firmly believe sides are the star of the meal, opt for the Sides and Pies offering from this affirmation-based restaurant group. Order by Sunday, November 19 and choose from options such as maple miso Brussels sprouts, cauliflower mashed potatoes with garlic confit, Autumn Salad, and lentil and butternut squash loaves (which are hearty enough to be served as a main). Spare yourself the indecisiveness and order one of each pie: raw pumpkin and chocolate coconut cream. They freeze well!
Find out more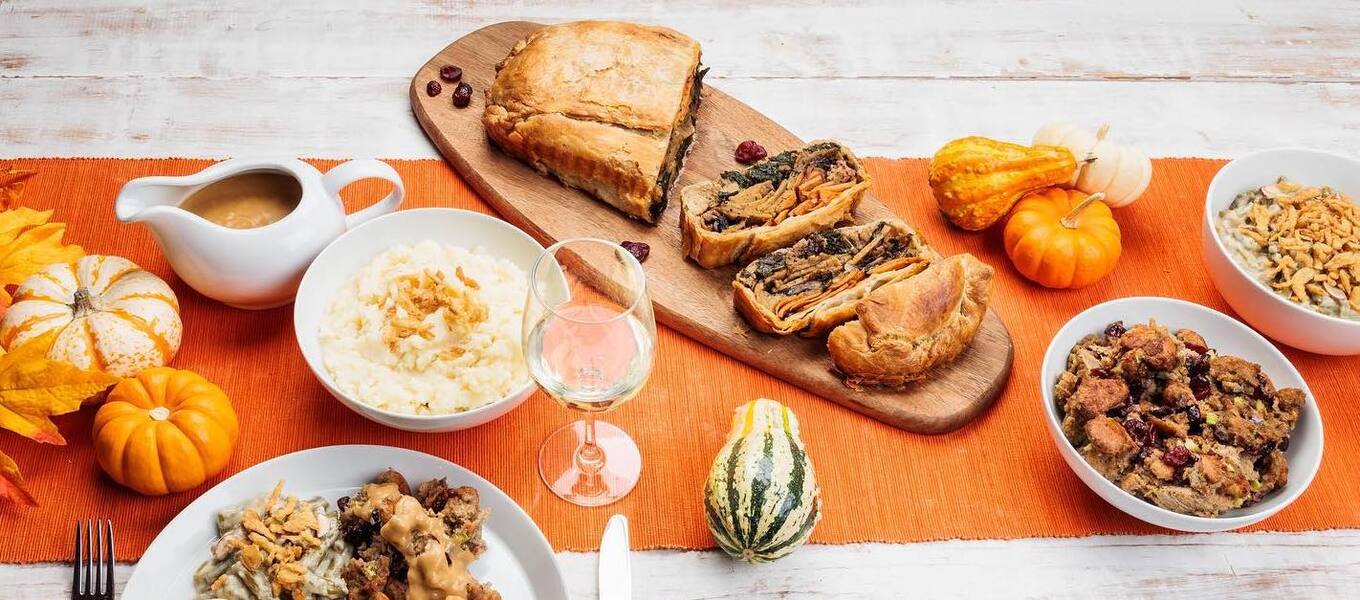 Native Foods
5Native Foods
Multiple locations
This chain's Thanksgiving Wellington is a fan-favorite and for good reason. The buttery, flaky main features steak-style seitan, kale, herbed mushrooms and yams, cranberry shallot stuffing, and a caramelized onion and orange compote. Drizzle with the accompanying shallot mushroom gravy and serve alongside Native Foods' garlic mashed potatoes and buttery green beans.
Find out more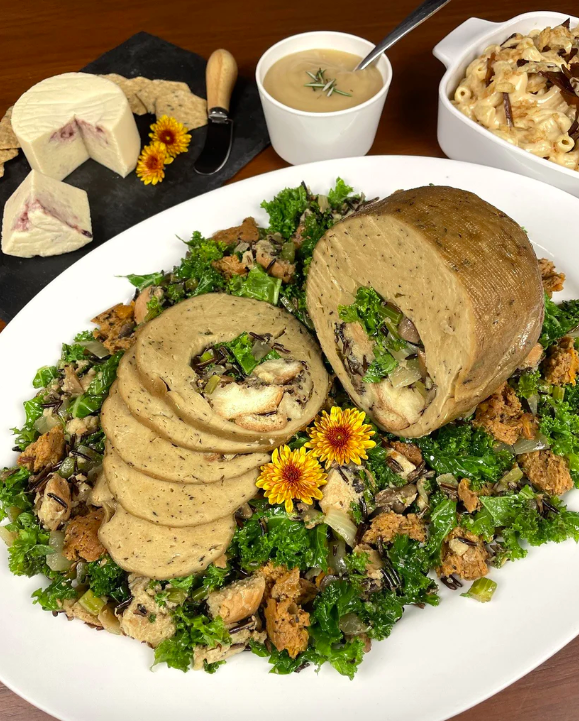 The Herbivorous Butcher
6The Herbivorous Butcher
Minneapolis, MN 
Available for both takeout and nationwide delivery, this vegan deli and butchery has options for large family feasts and more intimate family meals. The expansive Turkey-Free Feast includes seven of the company's festive meats, cheeses, and sauces. The à la carte menu allows customers to mix and match their favorites. We highly suggest the Unstuffed Turkey Roast, Crumbled Bleu Cheese, and meatloaf. For a taste of these delicious offerings, ensure your pick-up order is placed by Saturday, November 18. The Herbivorous Butcher will also be offering free Thanksgiving meals at J. Selby's on Thanksgiving day. 
Find out more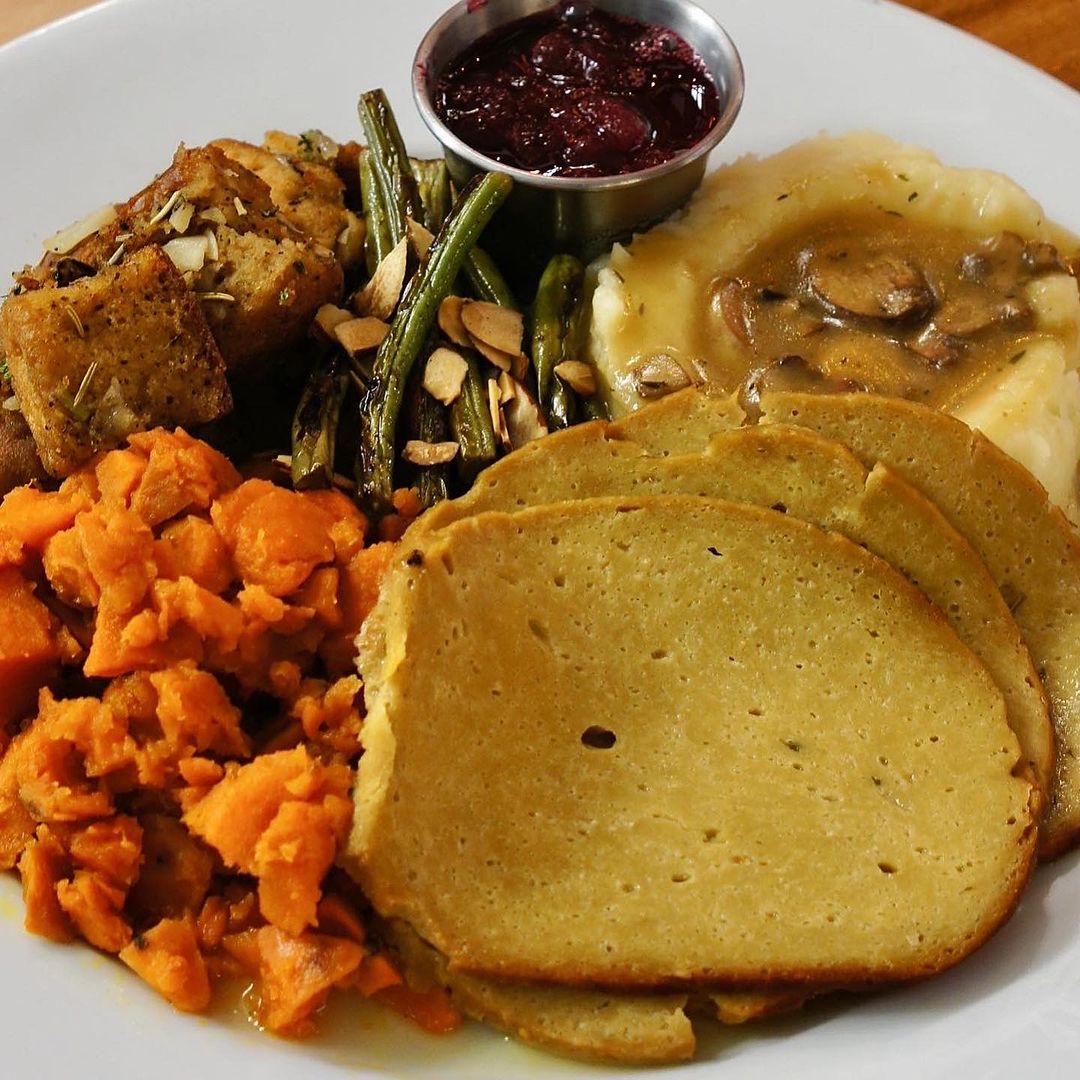 Follow Your Heart
7 Follow Your Heart Market and Cafe
Canoga Park, CA
This hippie café and market offers just about every Thanksgiving dish you could ask for—family-sized turkey pot pie, vegan turkey, stuffing, gravy, mashed potatoes, yams, and green beans—and that's not including the nine desserts on offer. While this spot is a bit out of the way for many Angelenos, the bounty is worth the drive. Order by Friday, November 17 to secure your feast.  
Find out more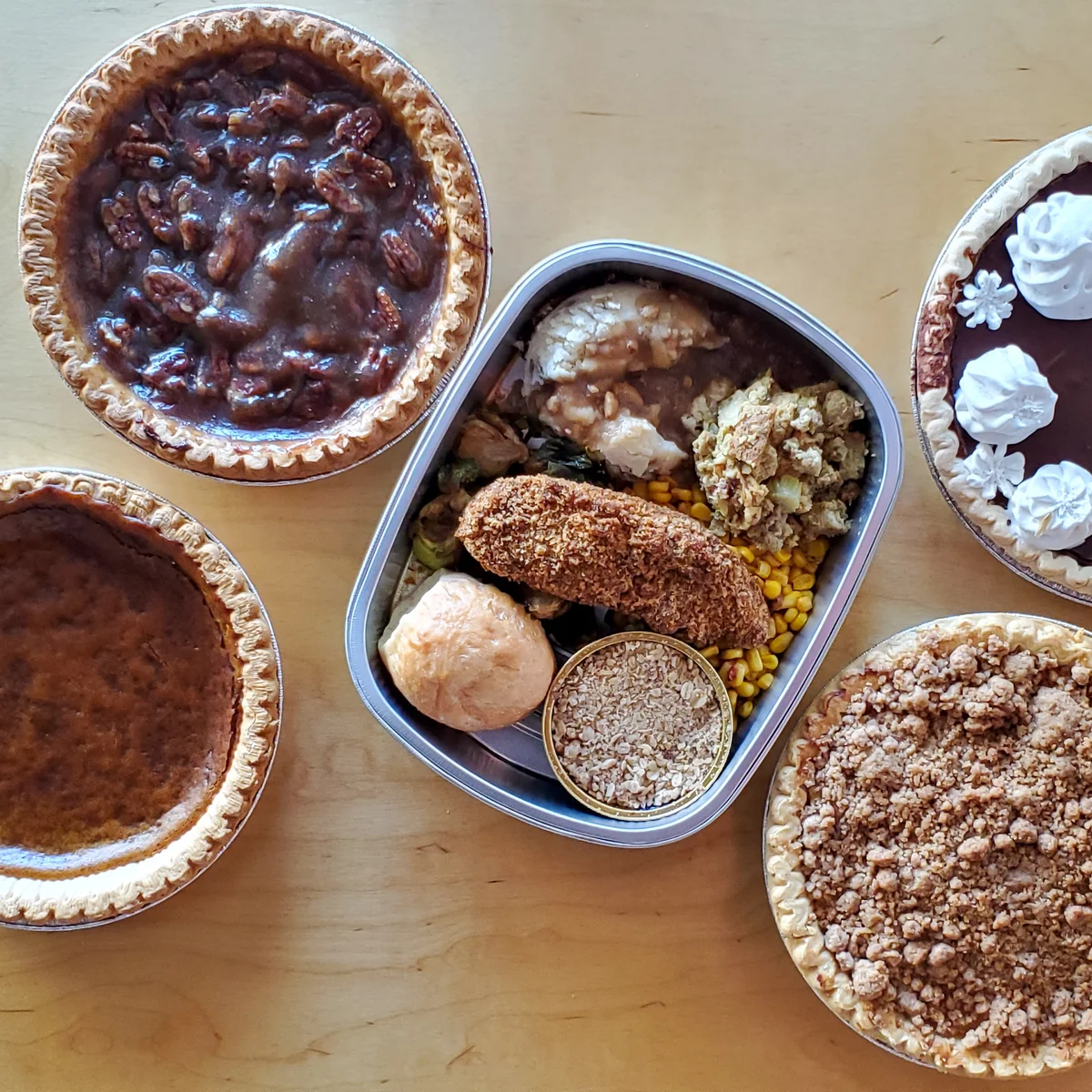 Green New American Vegetarian
8 Green New American Vegetarian
Tempe, AZ
Arizona locals, take note—this Thanksgiving menu is only available for pickup at the Tempe location, and orders must be placed by Sunday, November 19. Even if it's out of the way for Phoenix residents, one look at the menu will motivate you to make the drive. Where else can you find seitan turkey breast with "giblet" gravy, smoked paprika sweet corn, or a Winter Berry Organic Oat Granola Cobbler?
Find out more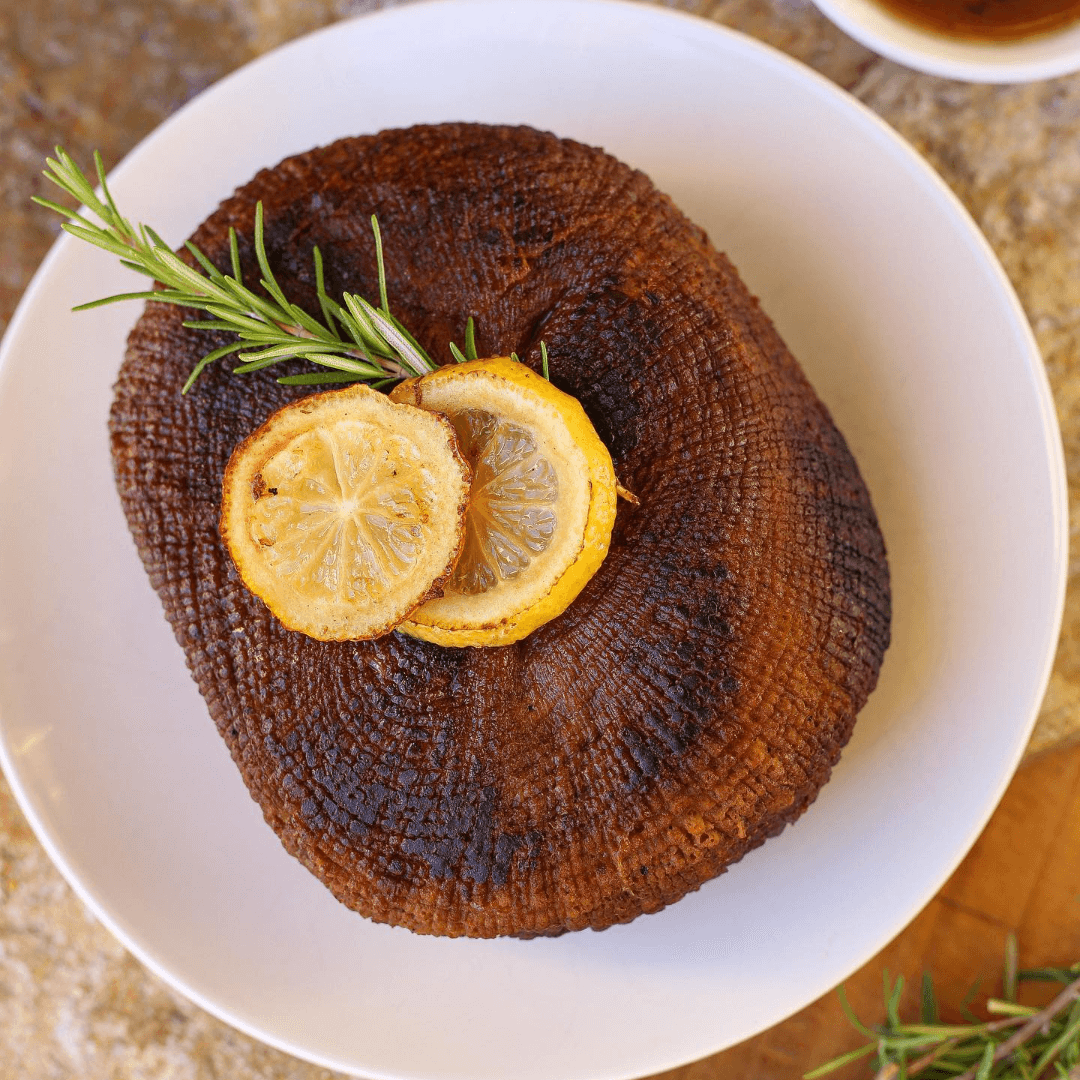 Chef Tanya's Kitchen
9
Chef Tanya's Kitchen
Palm Springs and Palm Desert, CA
Chef Tanya Petrovna has transformed this desert resort town into a vegan oasis through the expansion of her namesake café. This year's takeaway Thanksgiving menu is particularly robust, featuring a show-stopping Very Voluptuous Vellington, Where's the Meat Loaf?, a four-pack of classic sides, Organic Turkey Love Roasts, and organic pumpkin pie. Those who miss the order deadline of November 19 may luck out and find a few of these items stocked in the restaurant's grab-and-go refrigerated cases. 
Find out morE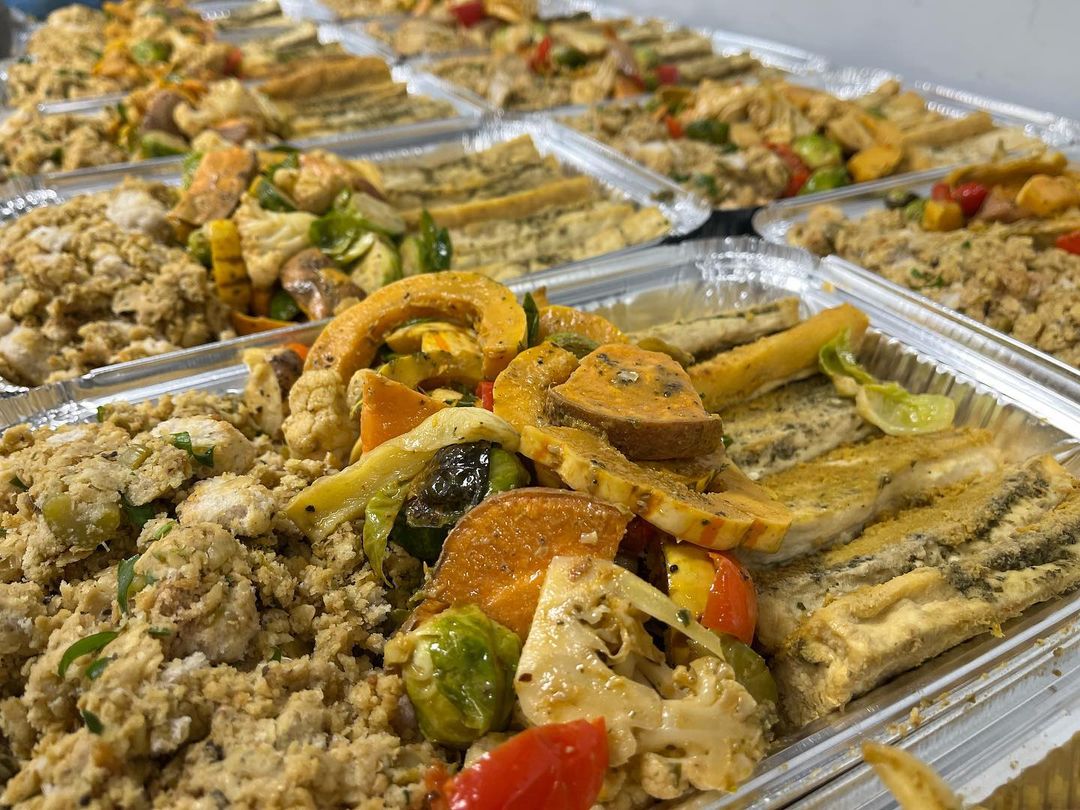 Pingala Cafe
10Pingala Cafe
Burlington, VT
Those who reside near Ben & Jerry's HQ can rely on this quaint vegan restaurant for all of their Thanksgiving staples. The tasty take-home meal option includes garlic-herb-crusted tofu, roasted vegetables, mashed potatoes, stuffing, smoked mushroom gravy, and cranberry-apple-citrus sauce.
Find out more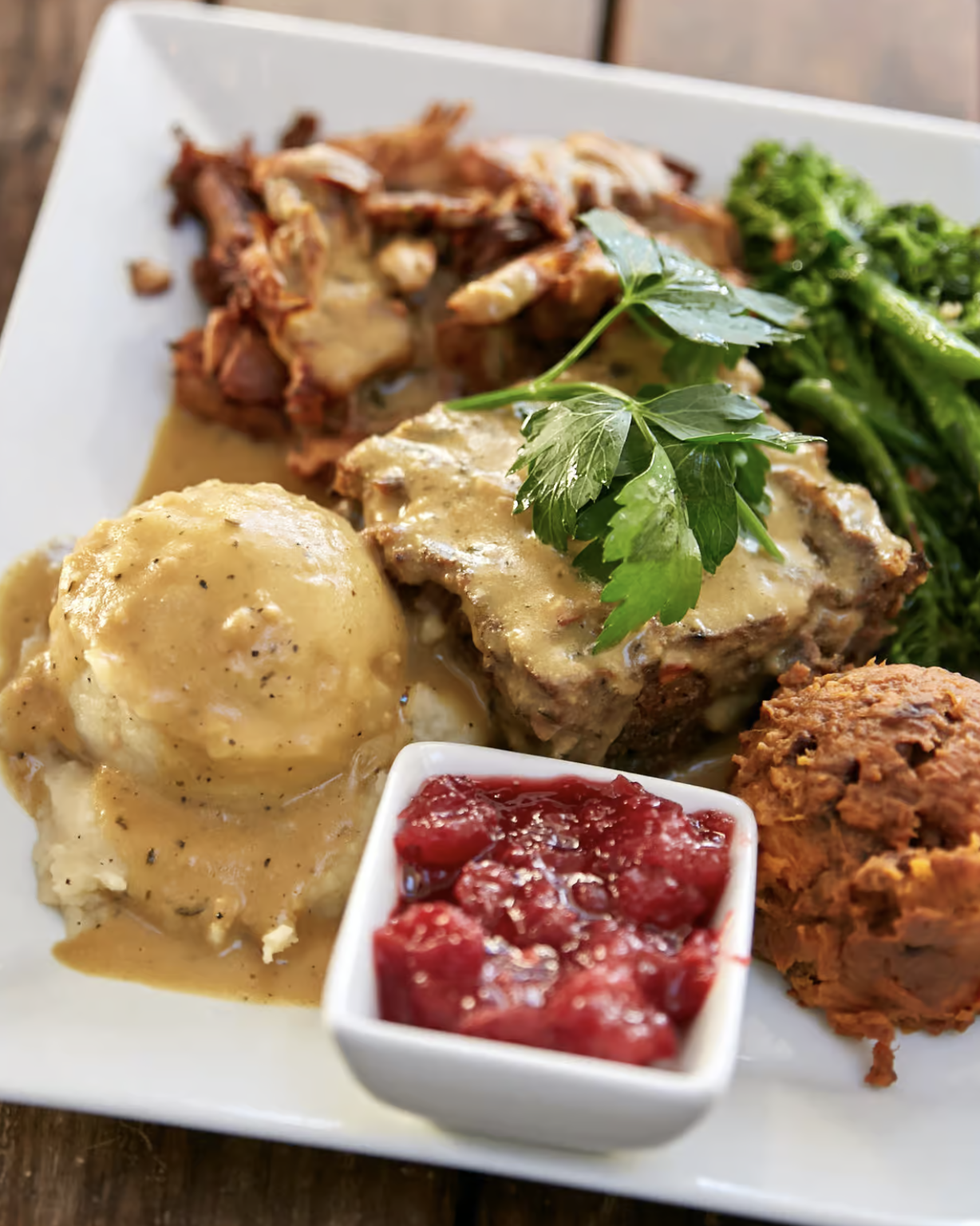 Real Food Daily
11 Real Food Daily
Los Angeles, CA
This Los Angeles vegan institution is continuing its tradition of offering an eight-course Thanksgiving feast for $60 per person. Order the meal for yourself by Tuesday, November 21 and savor your hickory-smoked, maple-carved jackfruit as your relatives politely pick at a dry, overcooked turkey. Alternatively, make dine-in reservations for the ultimate Thanksgiving day buffet.
FIND OUT MORE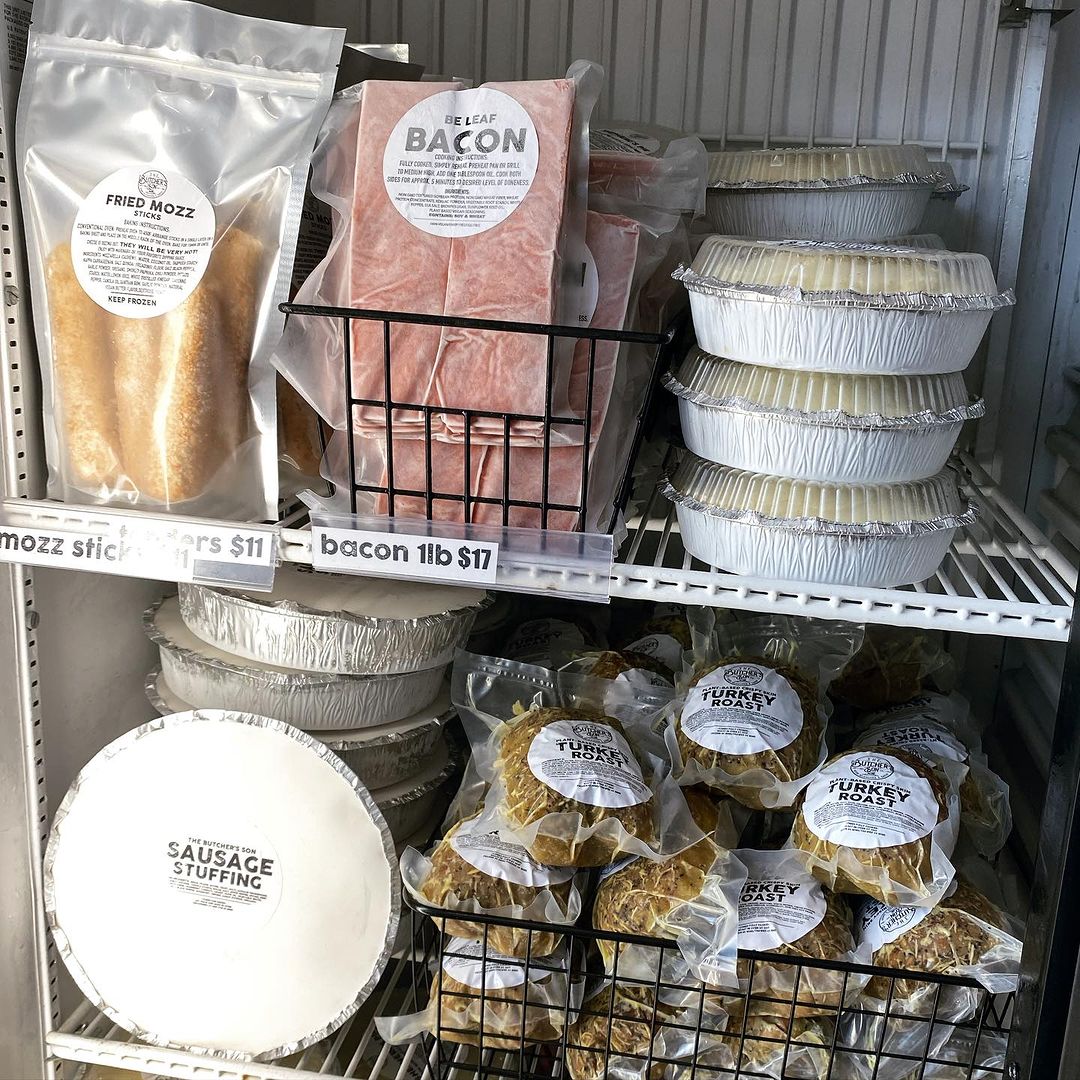 The Butcher's Son
12 The Butcher's Son
Los Angeles and Berkeley, CA
We've searched vegan spots nationwide, but this delicatessen and bakery is the only place we've found a one-pound plant-based turkey roast with a crispy skin. Pre-orders have now closed, but select holiday items are still available for purchase in-store at this deli's Berkeley outpost.
Find out more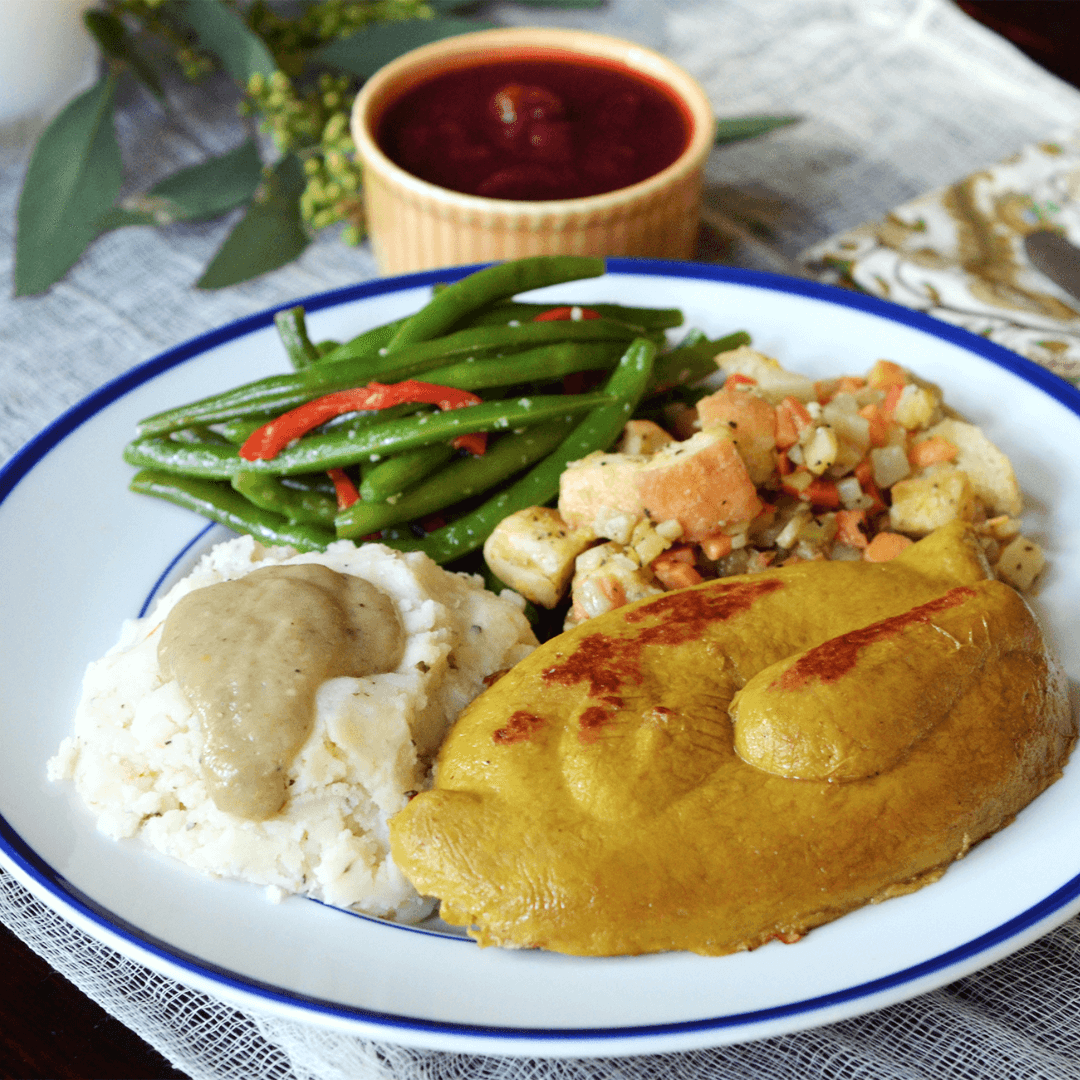 Cafe Sunflower
13 Cafe Sunflower
Atlanta, GA
Visiting a not-so-vegan-friendly household for Thanksgiving? Atlanta residents can rely on Cafe Sunflower's Thanksgiving Take Home Meal. The satisfying box, which must be ordered by Monday, November 20, includes a realistic-looking golden vegan turkey, mashed potatoes, cranberry syrup, stuffing, mushroom gravy, and sauteed green beans and red peppers.
Find out more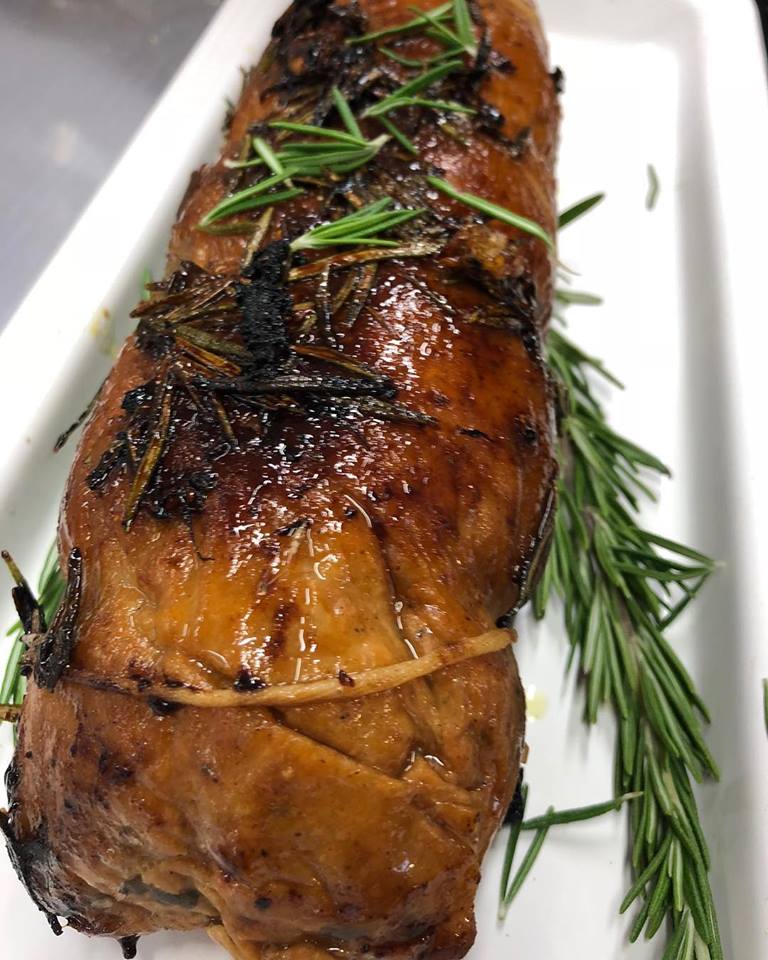 Three Girls Vegan
14 Three Girls Vegan
Guilford, CT
Connecticut-based creamery Three Girls Vegan is offering several delicious pre-order options on its Thanksgiving menu, including a Holiday Roast, Vegan Lasagna, and a nut-based Brie En Croute. If all three sound appealing to you, order them in a bundle for $225, which will serve around six to eight people.
Find out more
For more vegan Thanksgiving tips, read: