What's not vegan about a bar? While these establishments may seem like a safe space, not all alcohol is vegan (more about that here). Beyond that, certain cocktails call for animal-based ingredients such as egg whites, cream, and honey. 
Then, there's the food. It's always a good idea to eat something with an alcoholic beverage—particularly if you're enjoying more than one—and while some bars churn out exceptional food, very little of it is vegan as-is. We're accustomed to vegan restaurants, bakeries, and scoop shops—it's time for the era of vegan bars. We tracked down the best vegan-friendly lounges, pubs, and wine bars across the US so you can sit back, relax, and enjoy a libation free from animals. 
Is alcohol vegan?
Due to the fining agents used in some alcohols, not all alcohol is vegan. Ingredients such as isinglass (a fish derivative), casein (a milk derivative), and egg whites are sometimes used in wine, beer, and other spirits to clarify and remove astringent or bitter flavors from the alcohol.
Ultimately, these ingredients do not make it into the final product, but because they are used in the process of making alcohol, products that use them are not considered vegan. These animal-based agents are being phased out by many producers, but it's always best to check by viewing our guides to vegan beer and wine or visiting Barnivore.com. 
Christine Jou/Unsplash
When it comes to cocktails, a number of animal-based ingredients can be introduced. Cocktails with foam are traditionally made with egg whites, bloody Marys and Micheladas may contain clam juice or non-vegan Worcestershire sauce, and creamy drinks such as white Russians or Irish coffees are bound to include dairy.
The safest bet for vegans at a non-vegan bar or cocktail lounge is to keep it simple. Order a beer or glass of wine you know to be vegan-approved or stick to the basics—drinks that contain minimal ingredients like vodka sodas, gin and tonics, and martinis. Fruity or more elaborate beverages may be vegan, there are just a few more ingredients to research and confirm.
21 vegan-friendly cocktail bars and breweries
Not in the mood to scrutinize every ingredient before enjoying a much-needed drink? Check out these 21 vegan and vegan-friendly bars (listed in no particular order) across the country for exceptional libations and vegan food to match. 
APB
1APB
Los Angeles, CA
Head to APB (which stands for A Plant Bar) to enjoy vegan cocktails, vegan food, and a vibrant social scene, complete with a house DJ (if you go from Wednesday to Saturday). Sip on delicious concoctions like the Guava Margarita and the Lychee Martini, while you tuck into a plate of Japanese spring rolls and gyoza prepared by plant-based kitchen Niku Nashi.
Find it here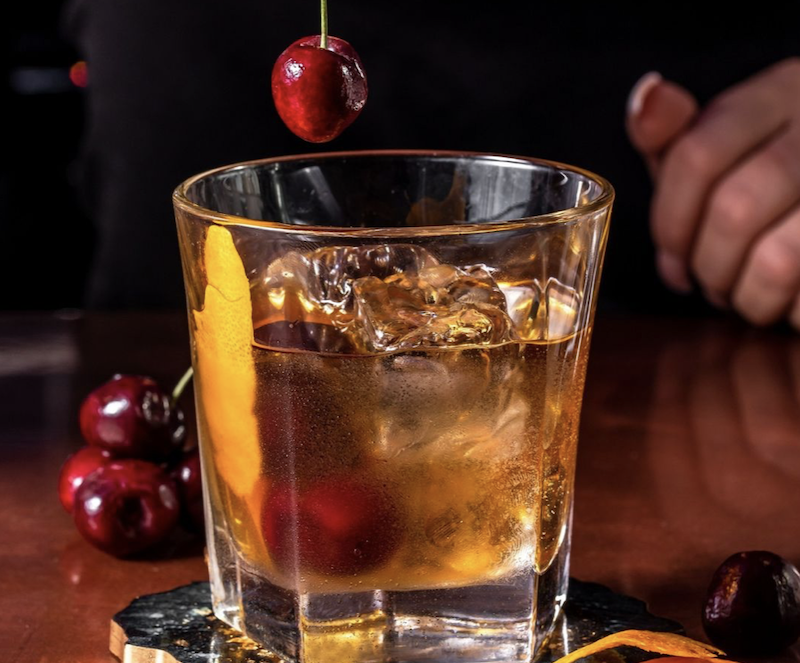 Bar Vegan
2 Bar Vegan
Atlanta, GA 
Philanthropist and Slutty Vegan founder Pinky Cole opened this concept inside Atlanta's chic Ponce City Market in 2021. Guests can expect a club-style vibe accompanied by inventive cocktails, mocktails, and an elevated bar food menu. Even for those who don't partake in alcohol, the fun vibe and Cheezesteak Eggrollz are reason enough to visit Bar Vegan.
Find it here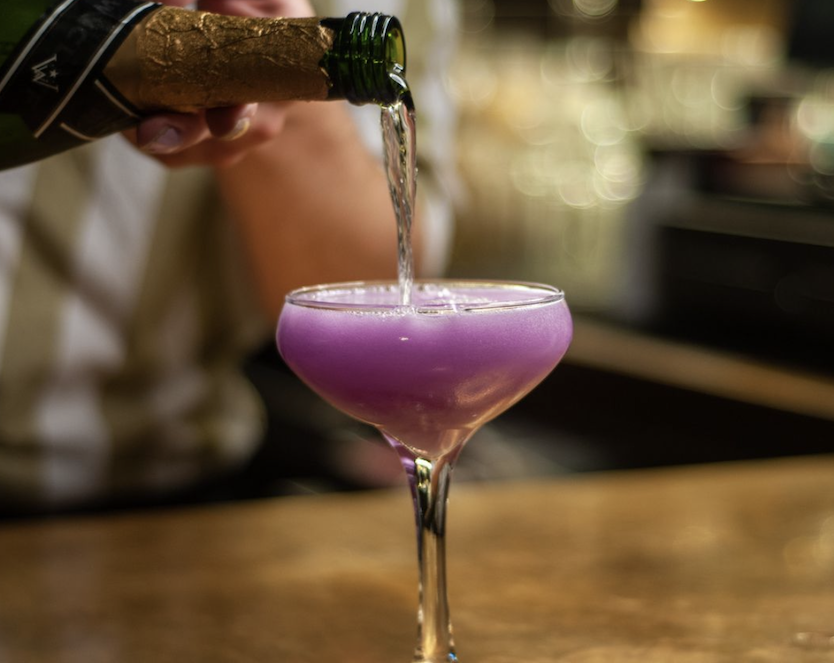 Charlie was a sinner.
3Charlie was a sinner.
Philadelphia, PA
There's a reason this Philly mainstay won Best Vegan Bar in the inaugural VegNews Restaurant Awards. The bar's cool, low-lit atmosphere; small plates; and strong cocktails make Charlie Was a Sinner. a destination for locals and tourists alike. The cocktail (and zero-proof) selection is experimental and extensive, though not to be outdone by the worldly cuisine. From zucchini crab cake sliders to Turkish lamb kofta, the chefs here show an impressive range. Reservations are highly recommended.
Find it here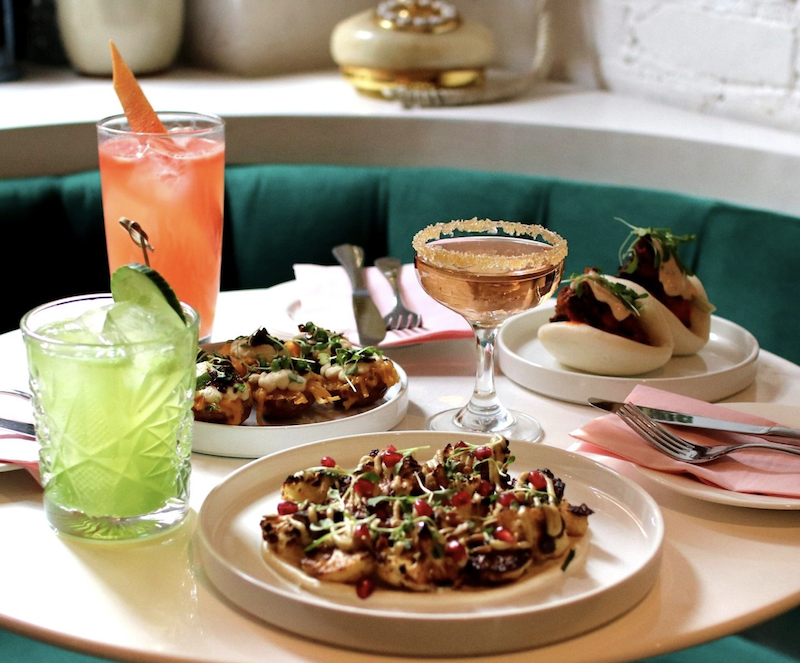 Ladybird 
4Ladybird
New York City, NY
This vegan tapas and wine bar is one of the finest vegetable-forward restaurants in New York City. Each small plate is crafted with whole foods in lieu of the standard Impossible or Beyond options, and it's a fantastic display of just how magnificent vegetables can taste. The bao buns (any variety) are a must-order, along with the truffle mac and cheese and brûlée. Pair your meal with any of the botanical-inspired cocktails or simply enjoy a glass of wine or beer on tap.
Find it here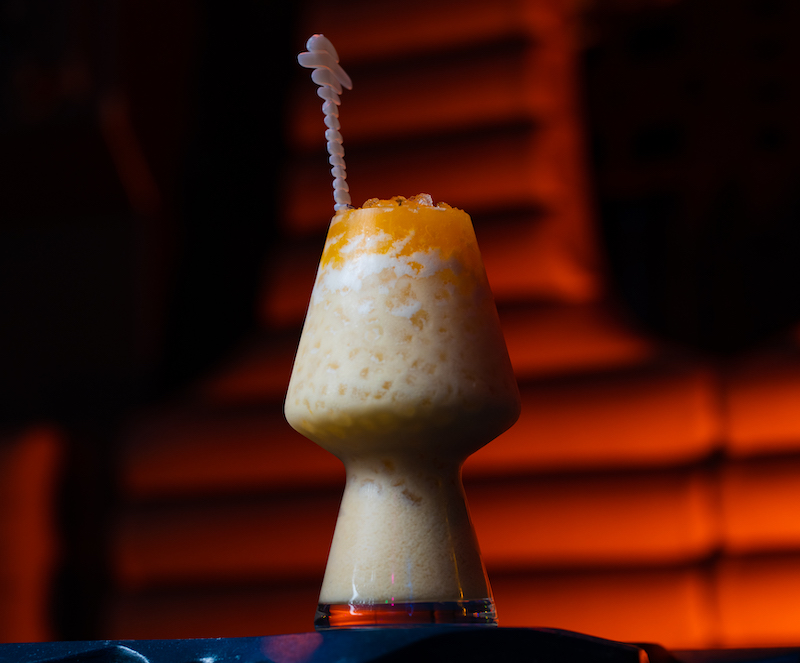 Mothership
5Mothership
San Diego, CA
The beverage and food menus at this outer-space-meets-tiki-bar establishment are inspired by tiki-themed pop-ups hosted by its sister restaurant (Kindred), though the decor and mood speak to another worldliness inspired by the galaxies. Expect to sip on beverages like the Away Mission, which features two different types of rum and crème de banane, and Saturn, which features Mothership's own Saturnalia Gin, passionfruit, lemon, and piloncillo orgeat. Tasty food options include noodles, pancakes, tofu, and soft-serve ice cream.
Find it here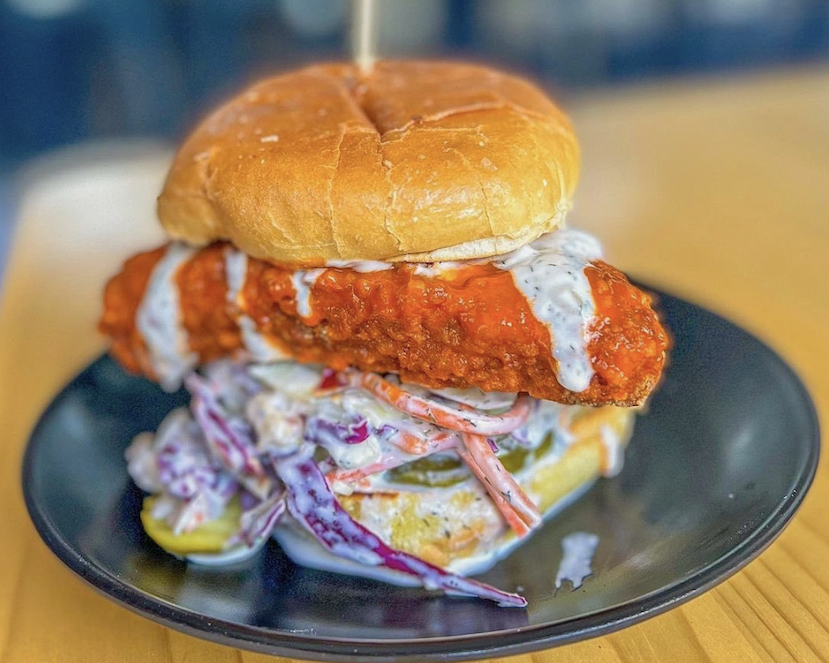 Plant Pub
6Plant Pub
Cambridge, MA and San Luis Obispo, CA
With two locations in Cambridge and San Luis Obispo, this brewery offers a vegan spin on the iconic Sam Adams fare. The menu is pure pub food—from fully loaded fries to super-stacked burgers. The kitchen also showcases a sweet side, churning out swirly dairy-free soft serve, root beer floats, and vanilla frappes. Accompany the meal with a craft beer, and even your omnivorous friends will be happy to join you.
Find it here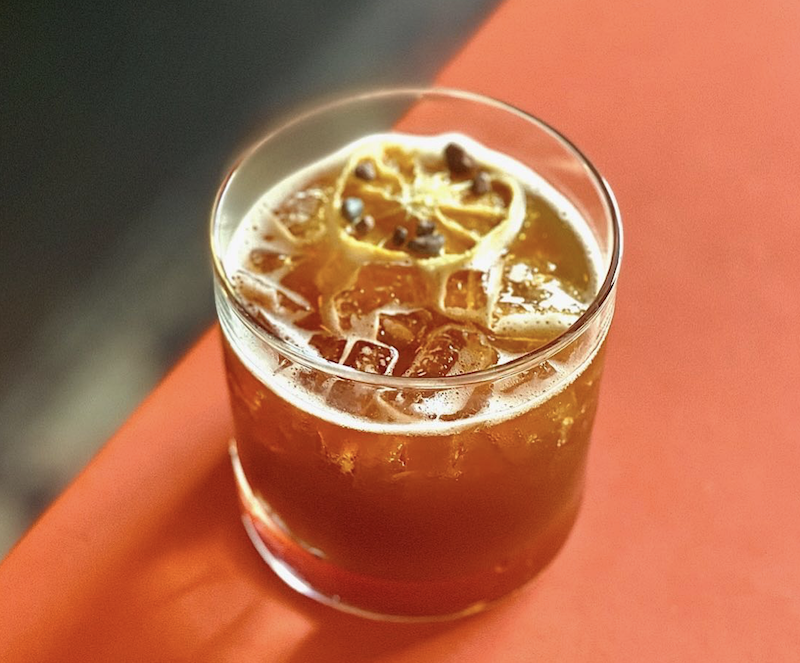 The Bye & Bye
7 The Bye & Bye
Portland, OR
This vegan bar is essentially Portland. Casual, no-frills, and a bit quirky, it serves up a comprehensive beverage menu with a wide range of warming comfort food. Yes, the cocktails are great and the craft beer selection is impressive, but you'd be doing yourself a disservice if you didn't order the pretzel knots with housemade vegan cheese sauce and stone ground mustard. It's the first thing on the food menu for a reason.
Find it here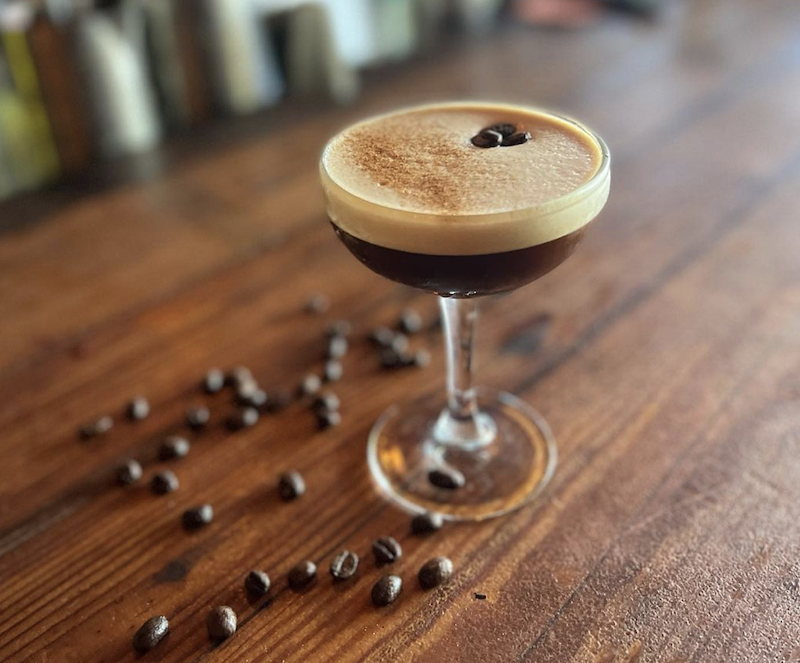 The Beer Plant
8The Beer Plant
Austin, TX
"Eat plants. Drink beer. Be happy." What a life this Austin, TX brewery has dreamed up for its customers. At The Beer Plant, everyone can set aside the stresses of daily life and simply enjoy great food and good company. Spanning brunch and dinner options, the menu is a mix of Southern-inspired pub food and global dishes with pan-Asian twists like Hill Country "Chicken" and Gravy to Korean Broccoli and Kimchi Grilled Cheese. Beverage-wise, the kitchen provides a wide selection of over 40 draft beers, a wine list, and creatively named cocktails (yes, even the When Doves Cry cocktail is vegan).
Find it here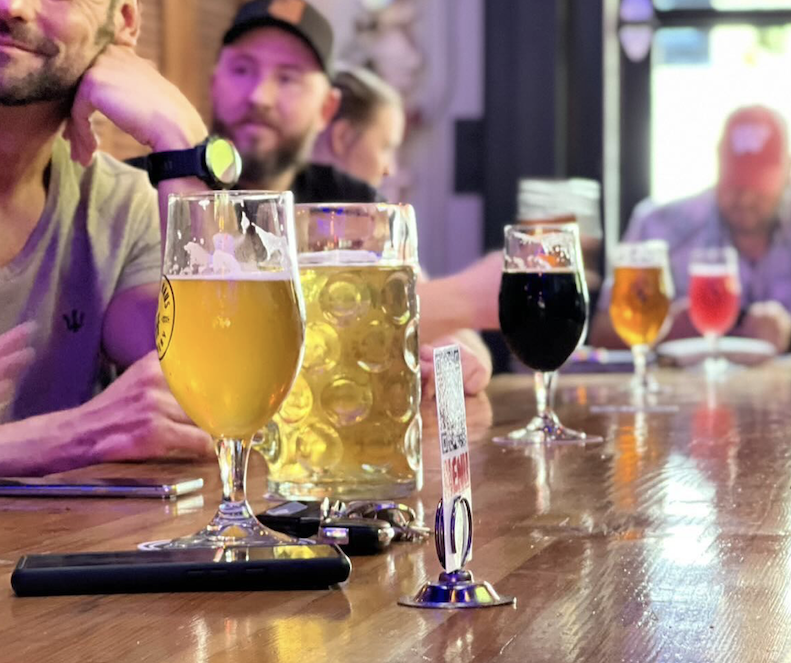 Pedal Haus Brewery
9Pedal Haus Brewery
Multiple locations, AZ
Cornhole pro? Check out Pedal Haus the next time you're in Arizona. The vegan-friendly brewery boasts three locations across the state—including Phoenix and Tempe, with more opening soon. The beer selection is based on location, but each offers something for every beer connoisseur, from stouts to ales. For non-beer drinkers, there's even a hard seltzer. Cold glass in hand, check out the dedicated vegan menu for everything from Bavarian soft pretzels served with "haus mustard" to larger entrée items like Green Chile Burgers and Rustic Garden Pizzas.
Find it here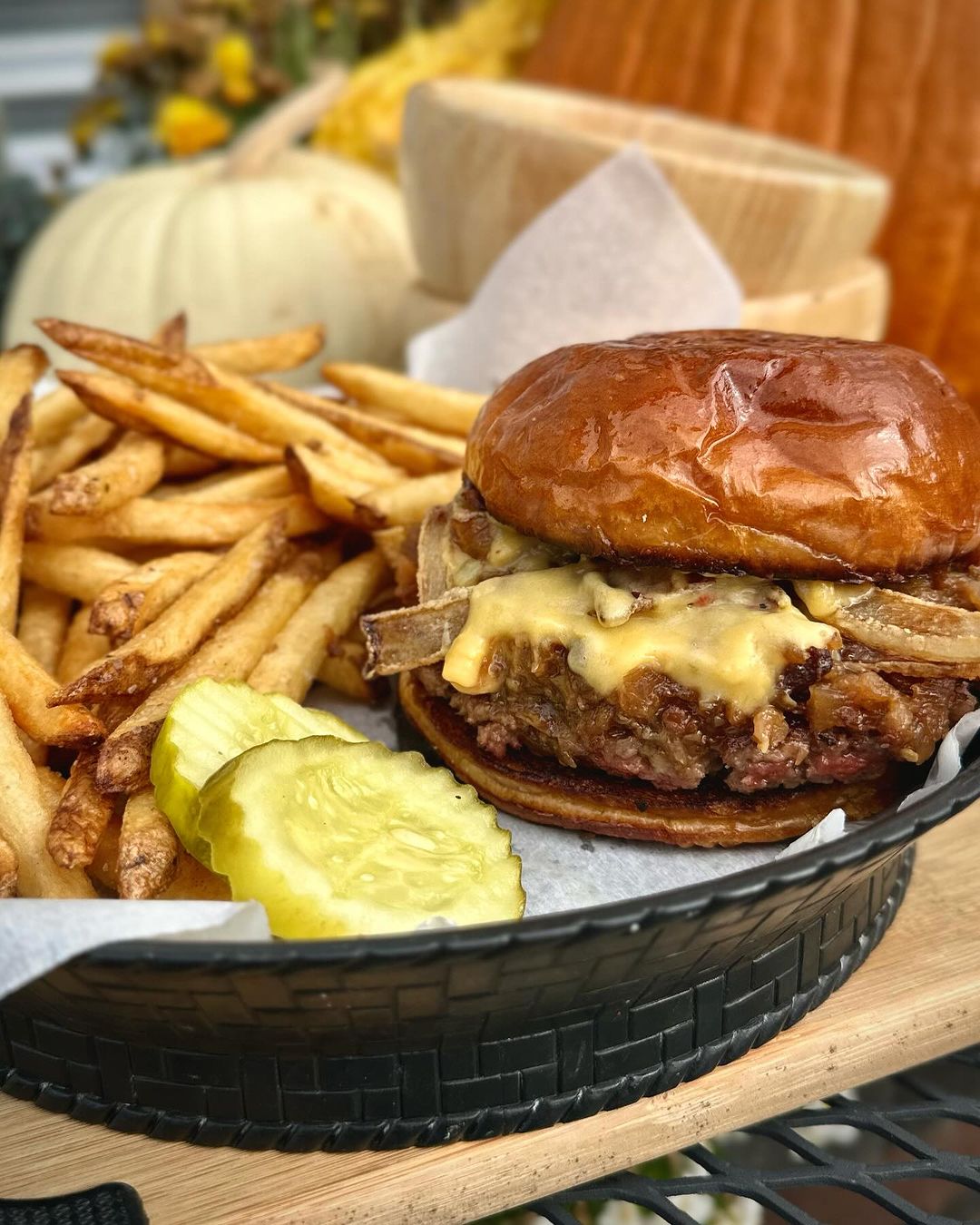 Pig's Mind Brewing
10Pig's Mind Brewing
Machesney Park, IL
Pig's Mind's claim to fame is establishing the first vegan brewery in the US, and it's not on either of the coasts. Located in Machesney Park, IL, this 10-year-old spot specializes in animal-free German lagers and ales, though you can find other types of beer on tap, too. The brewery is family-friendly—complete with a kid's menu—and cranks out an impressive selection of vegan menu items from starters and salads to burgers and bowls.
Find it here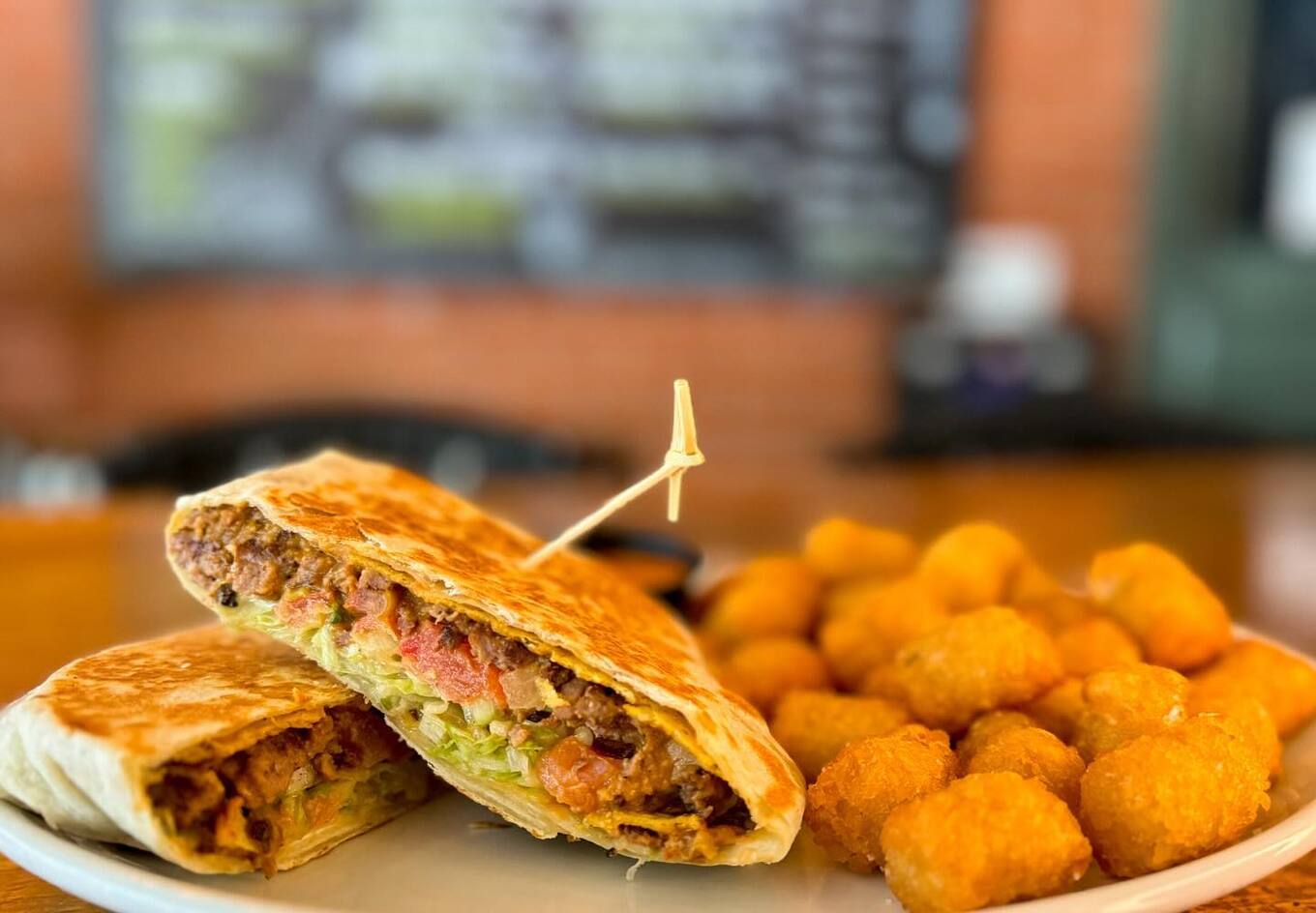 Beelman's
11Beelman's
Los Angeles, CA
Set in Downtown Los Angeles, Beelman's offers a casual yet often crowded space for Angelenos to grab a beer and watch a game, enjoy a boozy brunch, or sip a flavored mule alongside a thoughtful fusion menu of vegan bar snacks, salads, and mains. Both the beverage and food menus are extensive, but you can't go wrong with any of the craft cocktails, and tots are a must. From tacos to garlic tots, Beelman's knows how to transform basic bar food into something to fawn over.
Find it here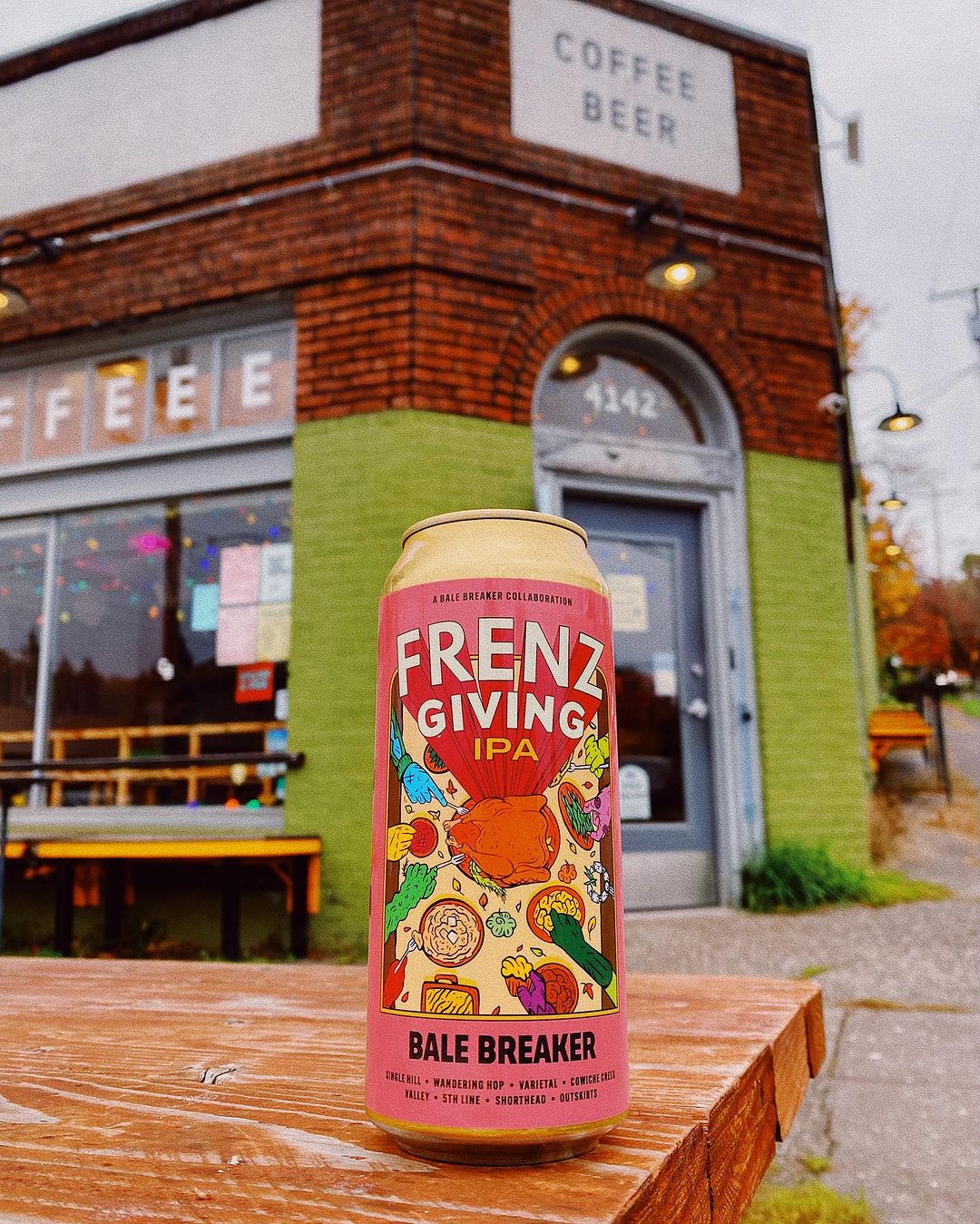 Coffee Beer
12 Coffee Beer
Portland, OR
Portland's Coffee Beer offers exactly what you'd expect: coffee and beer to an incredibly high standard. If you head next door to Cutiee Buy's (which is owned by the same people!), you'll also find delicious vegan hot dogs cooked to order.
Find it here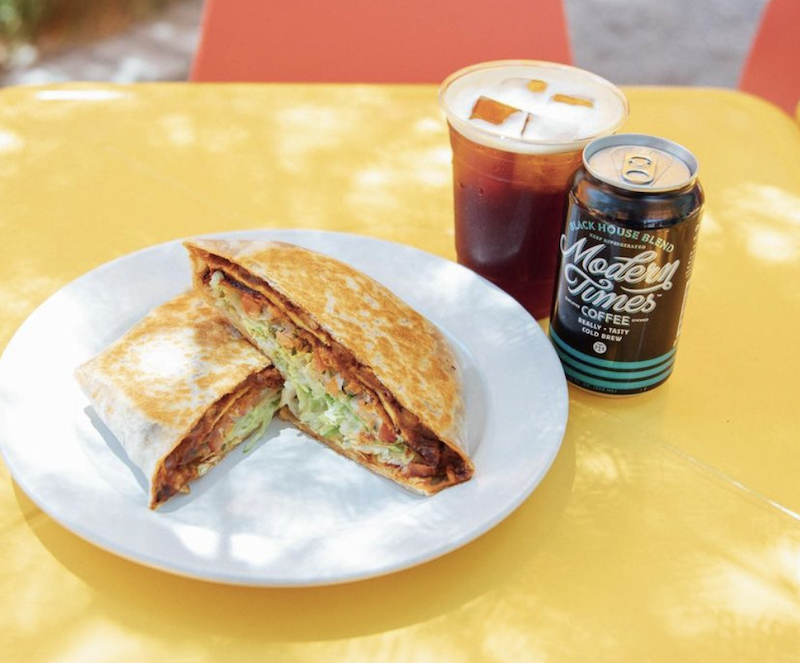 Modern Times
13Modern Times
San Diego, CA

With tasting rooms spanning across San Diego County, this all-vegan brewery and coffee purveyor has three locations to its name. Customers can reliably find five year-round, homemade brews on tap and by the can along with a handful of seasonal IPAs. Those who don't partake in alcohol can grab a house-roasted coffee or bag of beans to go. Alternatively, skip the brews and head straight for the food menu—it's that good. Served exclusively at the Encinitas location, the kitchen offers Cheesy Potato Croquettes, Somen Noodle Salad, and Impossible Patty Sliders. It's an eclectic mix of excellently executed bar food staples along with pleasantly surprising global cuisine.
Find it here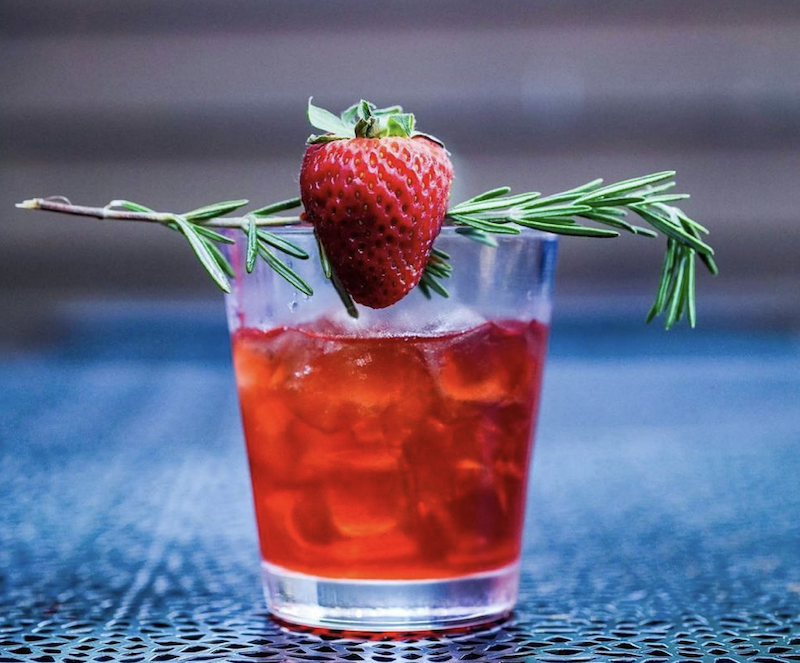 Botanical Bar
14Botanical Bar
Washington, DC
An offshoot of DC Vegan—the capital's first plant-based deli and caterer—Botanical Bar is mixing up Italian cocktails and zero-proof mocktails for the DC crowd. Enjoy a prosecco spritzer on a muggy DC summer evening or sip on a housemade Limoncello or Strawberry Negroni as you peruse the menu. Bites are made courtesy of the upstairs deli and include everything from king trumpet calamari to tofu marsala. Whether you're just there to drink or simply hangry after a long day at work, this vegan lounge has something for everyone.
Find it here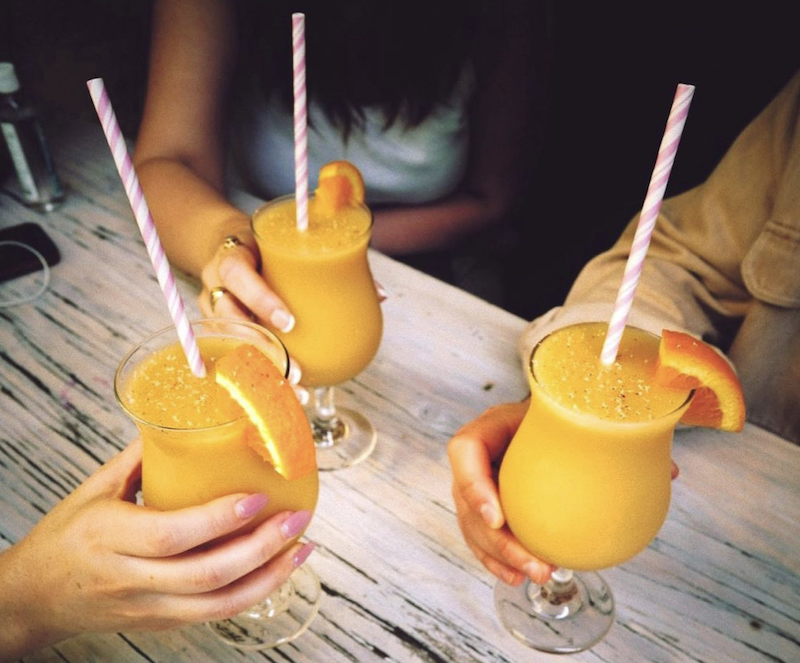 Izzy Rose
15 Izzy Rose
Brooklyn, NY
There's something to be said about a solid neighborhood bar. With live jazz on weekdays and a DJ on weekends, Izzy Rose is designed for patrons to have a good time, whether they're visiting for a casual happy hour or ready to dance the night away. The bar offers spirit-heavy cocktails, a handful of mocktails, natural wine, and both draft and canned beer. While most of the attention is focused on beverages, vegan empanadas are available, along with a rare nacho special.
Find it here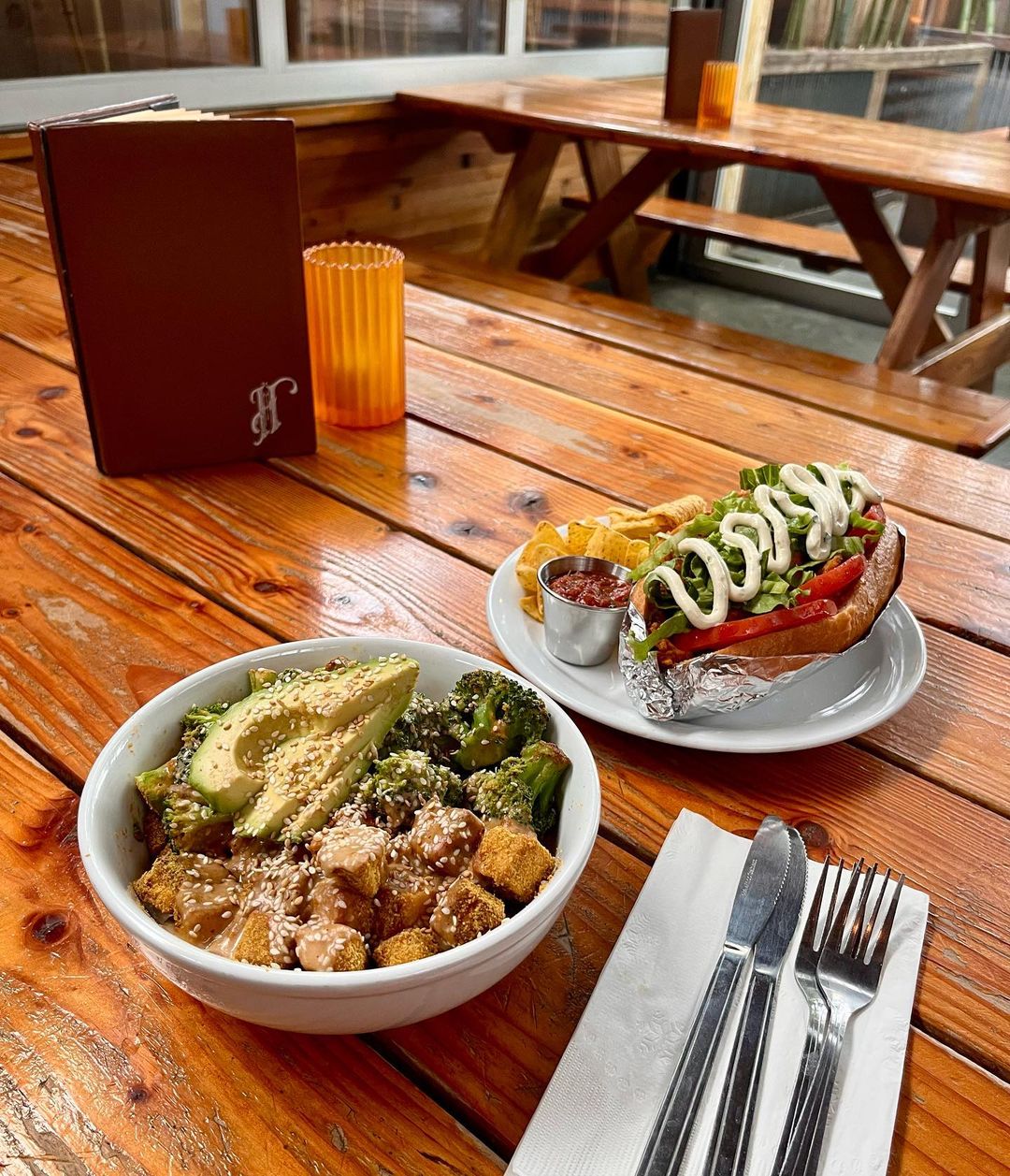 Sweet Hereafter
16 Sweet Hereafter
Portland, OR
Pair a laid-back vibe with surprisingly thoughtful cocktails and a vegetable-forward dining menu, and you have this Portland bar and restaurant. The game is always on and there is ample indoor and outdoor dining space, so you can stretch out and relax with a gin-and-lavender Easy Rider cocktail or celebrate with friends over an antipasto platter and Buffalo Sub.
Find it here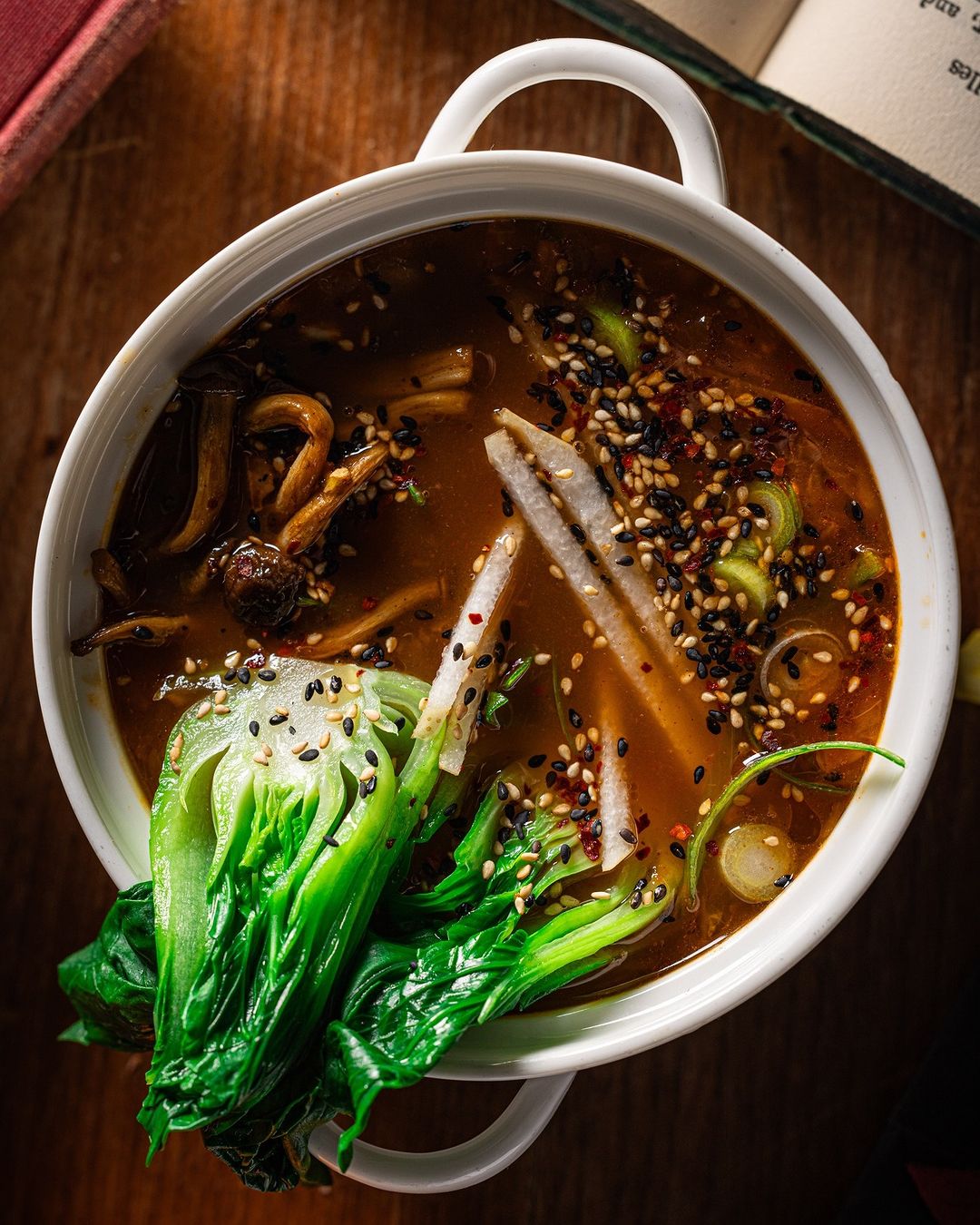 Cloak & Dagger
17 Cloak & Dagger
Cleveland, OH
In Cleveland's historic Tremont neighborhood, you'll find Cloak & Dagger, a classy cocktail lounge that offers an array of unique, delicious cocktails (like the Dwindling Harvest and the Humble Pie) and an all-vegan food menu. The latter features tasty bites like Sunflower Risotto, Korean Rice Noodle Soup, and Butternut Squash Steak.
Find it here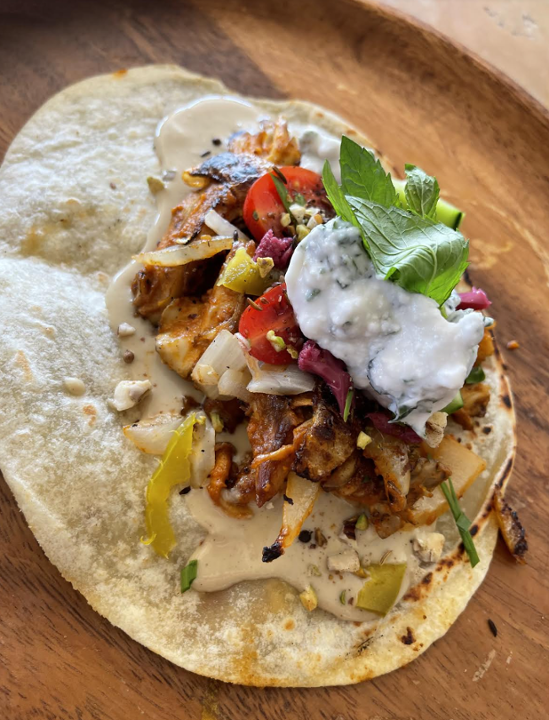 Hi Flora
18 Hi Flora
Minneapolis, MN
Hi Flora is the newest venture from plant-based specialists Root to Rise, so you can expect top-quality vegan fare. Sip on non-alcoholic delights like the Banana Cream Colada or the Phony Negroni while you wait for your food to arrive. We love the sound of the Shroomy Shawarma, Truffle Smashed Potato Skins, and Cashew Hemp Cheese Dip.
Find it here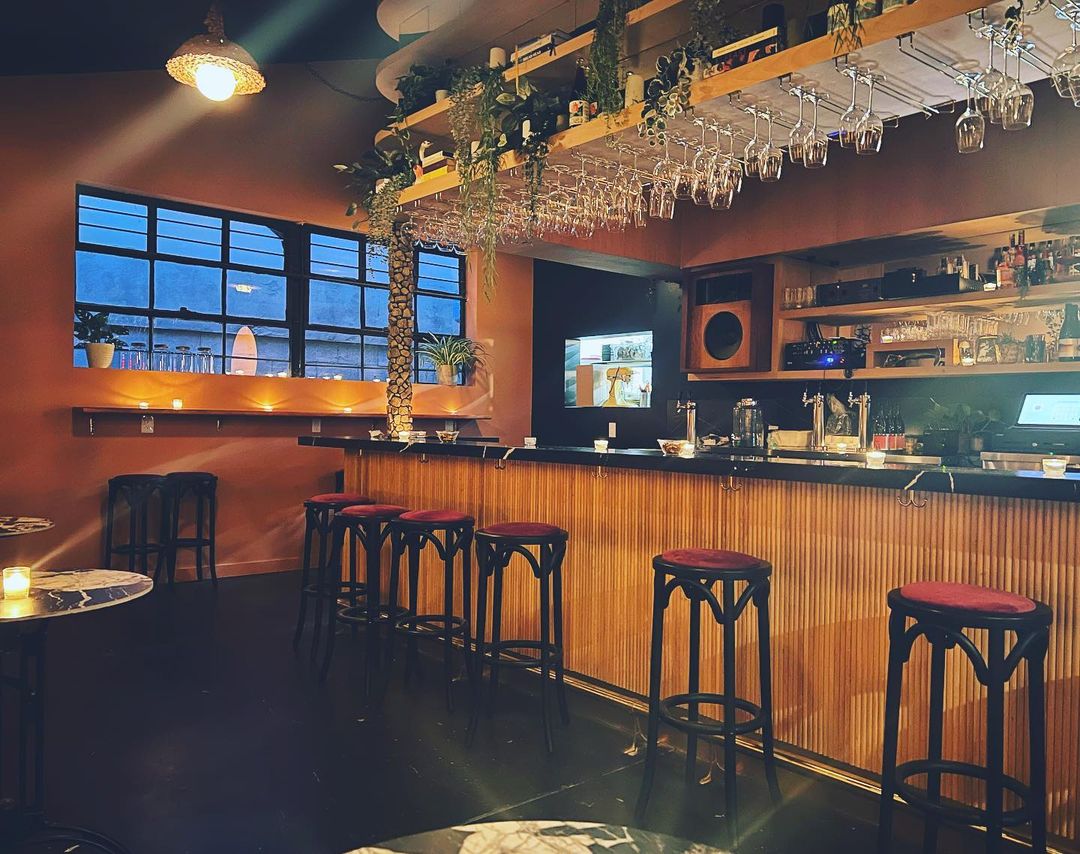 Justine's Wine Bar
19 Justine's Wine Bar
Los Angeles, CA
If you're looking for a "sexy little wine bar behind a vegan bakery," you've found it. Congratulations. Justine's Wine Bar offers an array of indulgent, flavor-packed food options, including Moroccan Cigars with Impossible Ground Meat and Polenta with Meatballs.
Find it here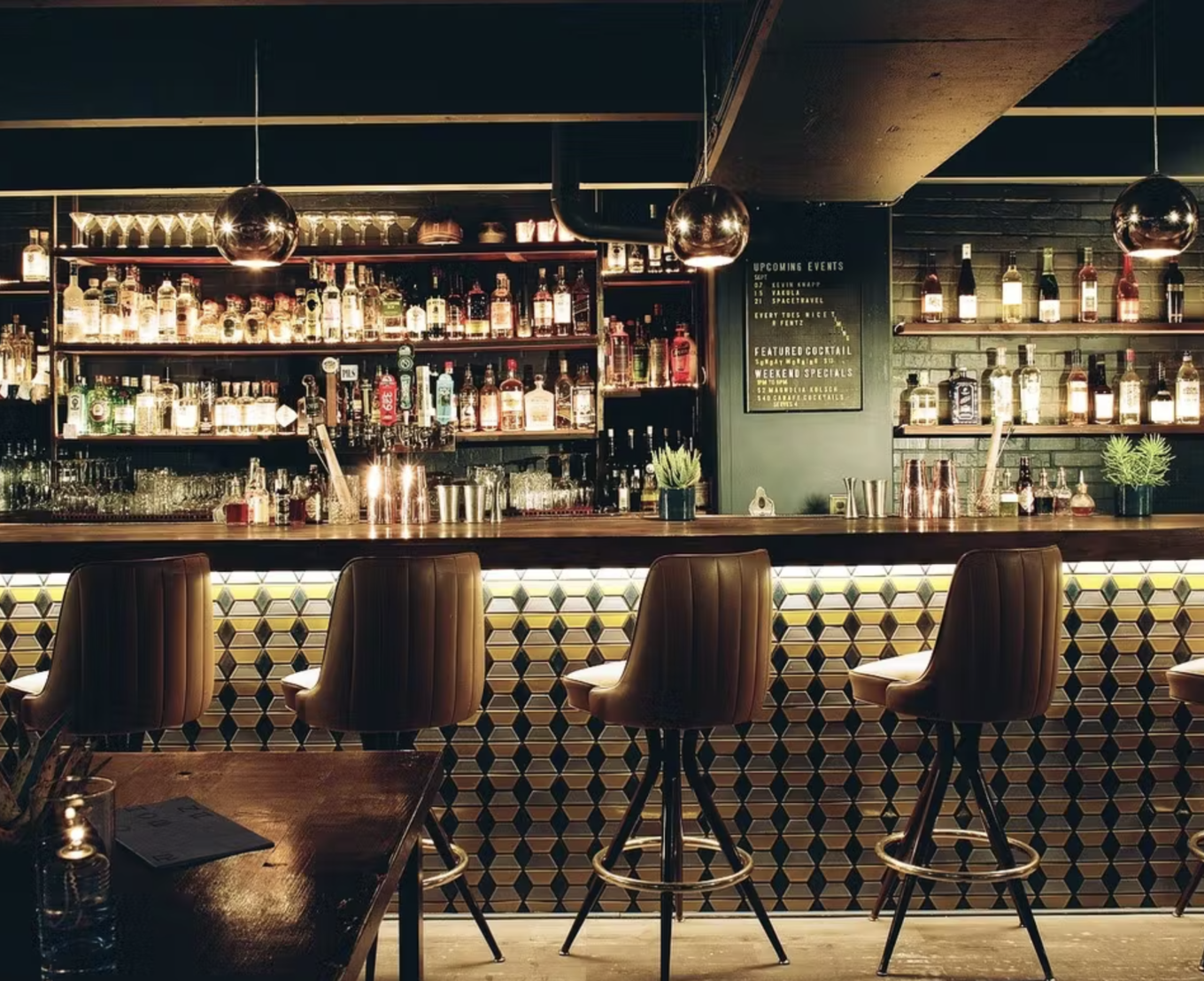 Phonobar
20 Phonobar
San Francisco, CA
If Hisbiscus Flower Tacos, Coco-Viche, and Furikake "Crab" Cakes sound delicious to you (and why wouldn't they?), you need to check out San Francisco's Phonobar. The restaurant offers an extensive vegan menu, which you can wash down with cocktails like Cosmic Disco (with vodka, Cointreau, hibiscus, lemon, and orange), The Manilow Sour (with bourbon, lemon, lime, and blueberry), and Nu-Wave Fashion (a Mezcal Old Fashioned).
Find it here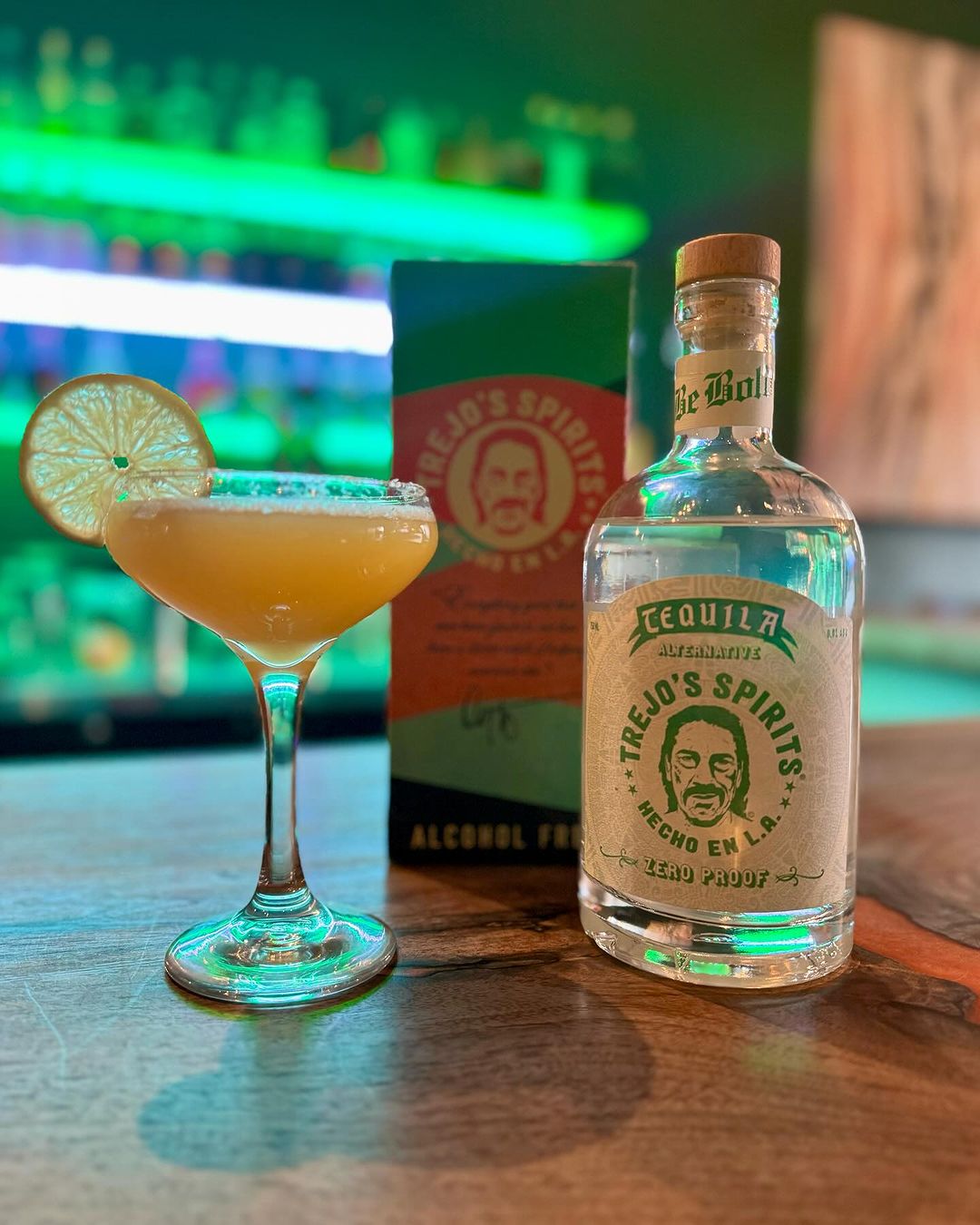 The Volstead
21 The Volstead
Philadelphia, PA
The Volstead is proof that you don't need to serve alcohol to provide a great bar experience. Set up to support those in recovery and returning from incarceration, the entire drinks menu is alcohol-free, and all of the food is 100 percent vegan.
Find it here
For more on vegan beer, wine, and cocktails, read: